The SAGA Falcon Ridge Sprinter Van Roof Rack's low profile keeps wind noise down and miles per gallon up, while it's modular design is easy to customize to suit any Sprinter van layout.
All sizes are for the High Roof models.
We install the SAGA Sprinter Van Modular Roof Rack over safari-style tubular racks for some very solid reasons. It's low profile, ships un-assembled (lower rates), and is modular … have a vent here, and an AC unit over there? Oooh… and a couple of solar panels up front, yeah — right about there. No big deal, simply adjust the cross members to suit your needs.

Finally, the biggest selling point is it's low-profile. Why would you want to turn the aerodynamic Sprinter Platform into a flying brick with a bulky rack? The SAGA Sprinter Van Roof Rack keeps wind noise to a minimum and reduces crosswind wandering by sticking low to the Sprinter's roof. To dress up the rack, we typically add a Fiamma F45s Awning to our installs, along with Code 4 LED lights. A perfect complement to this rack is the Zamp Obsidian line of US-Built (with a 25-year output warranty) solar panels. Sure those panels are spendy, but worth it when you look at the details. Remember, garbage in garbage out.
Contact us to schedule an install, or to put together a rack package for a killer deal. Rack assembly typically takes 8 hours for those doing it for the first timer.
Used on these builds:

Aerodynamic/Low Profile
Unlike many Sprinter Van Roof Racks on the market, this rack sits flush with the top of the Sprinter Van, keeping the drag coefficient in check. But, that's not all that this cargo rack for Sprinter Van's can boast. There's no gap at the front to split the wind and cause a buffeting noise at speed. It also sits about 5 inches above the Sprinter van, so you're not adding a ton of height to the top of the van, or loading your gear up high for a tippy ride going around curves. Best of all, the low profile ensures your Sprinter is not guzzling fuel like Jim Bob's big-block Chevy.
Low fuel mileage impact
Reduced buffeting and wind noise at highway speed
Center of gravity is kept low for handling/clearance
Fits 144, 170, 170 extended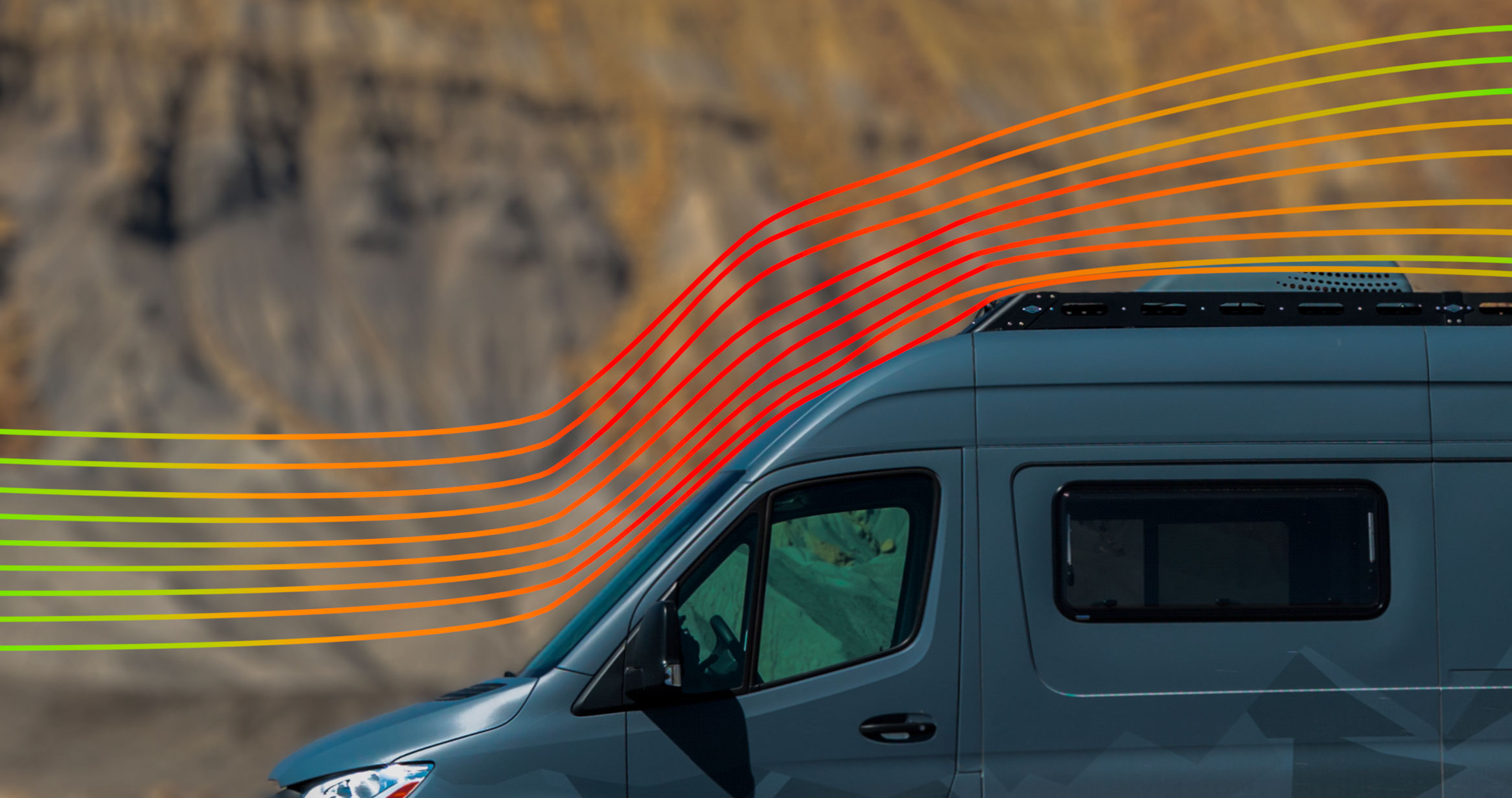 Modular Design
With this Sprinter Van Rack System, the cross beams can be placed wherever you need them. There's no compatibility issue with where you placed the AC unit, hatch, or fan on your Sprinter van camper conversion. Further more, if there's an unfortunate incident, and a portion of the rack is damaged by a tree or low hanging parking structure, you can unbolt a damaged portion and replace it, rather then dealing with welded and powder-coated safari racks.
Easy to customize crossbeam locations
Can replace damaged portions
Tie down slots through the rack for securing gear
Easy to mount Rotopax and other quick-release style gear storage solutions
Compatible with most common accessories; ladder, solar, light bar, awning
Construction
Heavy-duty, Rust proof, powder-coated aluminum
Stain-less hardware
Manipulated multi-dimensional aluminum superstructure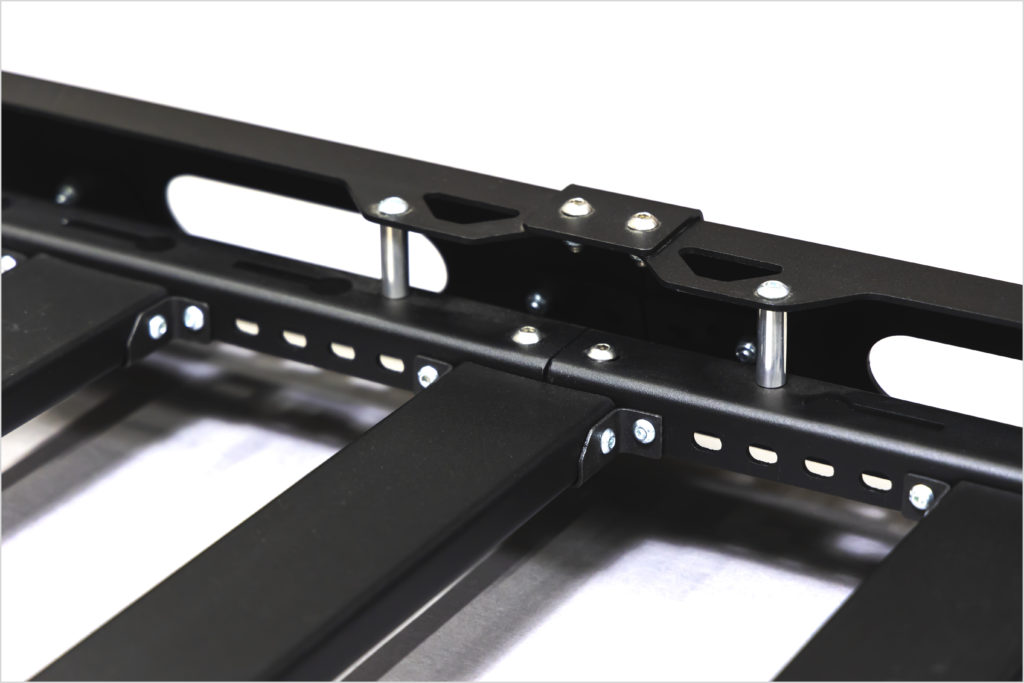 ensures gear up top is stable, hard mounted
Single wall aluminum racks are flimsy (the round bar is much more sturdy)
No drilling, mounts to factory rails.
Developed and, Made in the USA in Salt Lake City, UT.
Dimension and Capacity
144 Outside Dimension
53.71" W x 129.47" L x 5.16" H
144 Inside Area
46" W x 114.79" L
170 Outside Dimension
53.71" W x 163.47" L x 5.16" H
170 Inside Area
46" W x 148.79" L
170 EXT Outside Dimension
53.71" W x 173.47" L x 5.16" H
170 EXT Inside Area
46" W x 158.79" L
Load Ratings
300lbs dynamic/600lbs static
Construction
Finish
Textured Black Powder Coated
Assembly
Bolt together, No-Drilling, 2-person install
Modular layout for crossbars
10 pcs 144/ 14 pcs 170 / 14 pcs 170 EXT
Add-ons
Accessories
Lightbar, Decking, Roof Tent, Awning, Solar Panels, Recovery Gear
Like an Erector Set. But, for adults.
Assembly and Installation of the SAGA Sprinter Van Modular Roof Rack takes an experienced crew of two and about a half-day to complete the build process. For a first-time install, it's going to be a full day getting the rack assembled and installed on top of a Sprinter van. The kit uses stainless hardware and standard-sized fasteners and can be installed with a few wrenches. You will need two tall ladders, but there is drilling required. It mounts directly to the factory-installed roof rails.
How do you put it together?

Like an erector set, with nuts and bolts.

Can you walk on the crossbars?

Yes.

How do you mount an awning on them?

We mount the

Fiamma F45s

directly to the shell for the rack.

Is it compatible with ladders mounted to the roof rails?

We typically use the Rugged Design Concepts side ladder with this rack. It's mounted to the Sprinters rails.

How long does it take to install?

For a first time install, it'll take two people a full day to assemble and install the rack. For an experianced team, it can be done in about 5-6 hours.

What solar panels fit on either side of a Maxxfan on the rack?

The Zamp Obsidian 90 Watt long panels work well with this rack and fit inbetween a fan and the sides of the rack.

How do they fasten to the roof?

This rack uses the factory Sprinter roof rails to mount.

I'm missing hardware, what do I do?

The rack uses standard stainless hardware. If you're in a rush any hardware store will have these nuts and bolts in stock. If you can wait we'll send additional hardware right away.

Do you have to drill holes in the rack to attach things to it?

You can add holes and mount gear to the cross members and shell of the rack. the rack does have some built in slots and mounting locations, but not everything is