Mercedes-Benz Insulated Front Windshield Cover
Our Front Windshield Cover blocks the sun and keeps your belongings private, transforming your van into a mobile hideout. This cover's 5.0mm double-faced aluminum insulation provides excellent temperature control and complete light blockage. This cover will remain firmly in place and won't droop owing to the six fiberglass rods that are built right in.
Compatible with all Mercedes-Benz Sprinter vans built from 2007 to 2023+, the Van Essential Mercedes-Benz Front Windshield Cover works with all sizes of technology boxes and with, or without rear-view mirrors. Its six integrated fiberglass rods create stiffness and prevent sag, while remaining easy to install or remove. Additionally a proprietary double-hook tension system grabs under the headliner for the best possible fit

This tight fit ensures light stays out of the van when sleeping in after a night howling at the moon, and keeps light from escaping when poaching an urban parking spot overnight. Featuring UV-resistant construction, and automotive PE foam insulation with an aluminum radiant heat layer, this Sprinter front window covering will not degrade quickly. It's designed to last the test of time. Speaking of time, Van Essential is dedicated to making the world a better place and all fabrics used in the Sprinter Window covering are 100% Recycled PET plastic Bottles.
The Van Essential Sprinter Van Front Windshield cover keeps things warm in the winter months, cool in the desert sun, helps insulate from exterior noise, and blacks out light for comfort when camping in your Sprinter van.
slider does not have any rows
Temperature Regulation
Automotive-grade, double-faced pure aluminum 5mm foam insulation is rated over 100c (212f) to prevent deterioration and break down, and reflect 95% of radiant heat. The superior insulation ensures you stay cool on hot days & toasty on cold nights.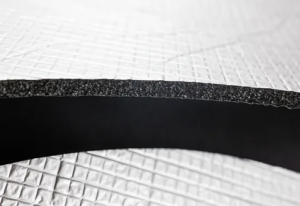 100% Light Blocking
Designed for stealth camping, all covers have external facing black fabric & a perfect fit to block light leakage. This is also perfect for those with hyper sensitivity.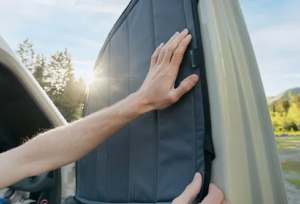 Environmentally Friendly
Fabric is made from 100% recycled PET plastic bottles, drink up and feel good about your trash pile.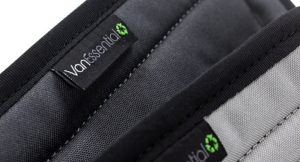 Size
Width
One Sprinter Front Window
Height
One Sprinter Front Window
Construction
Fabric
100% Recycled PET Plastic Bottles
Insulation
PE Foam, Aluminum Backed
Thread
UV-Resistant Polyester
Place window cover on dash and open completely with the black fabric facing outward.

Push window cover completely down deep into where the window's glass meets the dash. No need to push hard, just make sure it is seated correctly across the entire length of the window.

Vans with rear view mirror: lift up the window cover and wrap around the rear view mirror one side at a time with the cut out. Use the magnet to close around it.

Vans with a technology box or don't have rear view mirror: use the provided hooks that go under the headliner and once hooked on, pull cord locks on either side to pull up close to the glass. If you don't need them, they can be either not used or removed.

Roll your hand across the top of one side of the cover to the side of the van and pull down sun visor to hold in place. Repeat step on the other side.

If you have light leakage coming in, push the window cover into these gaps to best seal it up.

To remove window cover, revers the process.
What models does this fit?

2007 to Current (NCV3 & VS30)

Does it come with something to store it in?

Yes. It comes with a storage sack.

Will it sag?

No. Integrated fiberglass rods keep it stiff.