In a shop littered with polished aluminum Airstreams and their competitors, some 6 or 7 decades old, it's nice to see something modern roll through the door once in a while. While the ancient restorations really get our blood pumping, modern vans make our job easy. This Sprinter arrived at Reparadise ready for transformation — with its Sportsmobile conversion complete and its interior gutted from the front seats back. All it needed was a lot of imagination and a custom interior build.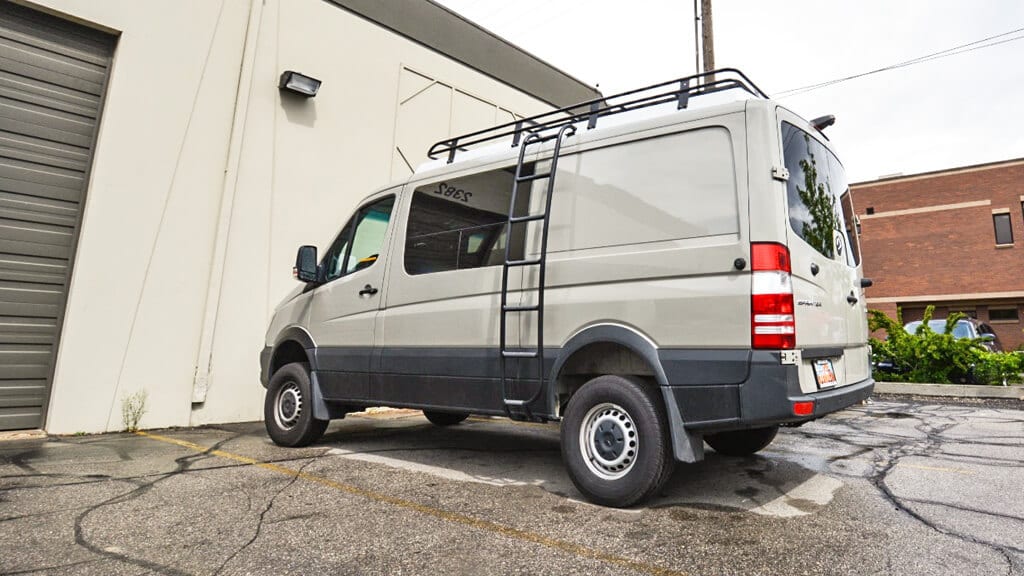 Preliminary Build
The build began with insulation and sound deadening. Before getting started on the insulation, we added sound-deadening material to the factory walls. We use 3M™ Thinsulate™ synthetic insulation whenever possible, because it regulates temperature, cuts down on noise from outside, and helps control condensation. The team then finished the preliminary phase by adding the sub-floor. We chose rubber penny flooring for its weatherproof durability, subtle cushioning, and clean look.
Sound deadening material
3M™ Thinsulate synthetic insulation
Rubber penny flooring
Interior
With the basic structure in place, the team began on the interior. We chose maple paneling because it provides a durable wall covering with a warm, natural look. We milled the tabletop in the shop from Black Walnut and finished with clean, modern furnishings and drawers with minimalist cutout pulls. Finally, we installed a hydraulic piston to assist in raising and lowering the tabletop.
Maple wall paneling
High-end cabinetry
Black Walnut tabletop + hydraulic piston
House Electricity
What modern home-on-wheels would be complete without a solar array? The team installed 2 170-watt Zamp panels on the roof, which are enough to run all the house electronics on a sunny day. They feed a pair of LION Safari Lithium-Ion house batteries through an MPPT charger. Then, we installed a Renology 200-watt inverter / charger to charge the batteries and power the outlets when the coach isn't plugged into shore power. Finally, we installed a Redarc DC-DC 1240D smart charger to charge the house lithium-ions from the engine. It also isolates the battery banks to prevent interior accessory use from draining the starter battery.
House Power
MPPT solar charger
200-watt Renology inverter / charger
Redarc DC-DC 1240D smart charger
House Appliances
We chose a few of our go-to standards for the house appliances. These are our favorites because of their reliability, styling and space-efficiency. For the kitchen, we chose an Isotherm Cruise 130 refrigerator and a Dometic sink / stove combo. The sink uses 3 removable, 5-gallon jugs to make refills easy. The interior is kept comfortable during the winter months with an Eberspächer Airtronic D2 diesel heater.
Appliances
Eberspächer Airtronic D2 diesel heater
Dometic sink / stove combo
While we love tearing an old camper down to its bare skin and rebuilding it with modern technology, there's something appealing about the clean simplicity of a modern build. And while the old Airstreams are more aesthetically appealing, it's tough argue with the reliability and capability of a 4×4 Sprinter pop-top. Are you ready to take your camper van to the next level and get way off the beaten path? Contact Reparadise today.