1959 Airstream Tradewind **SOLD**
There's an old saying in the used car business. You aren't just buying a car; you're buying someone else's problems. People do weird things to cars… and trailers, and you never know what you're getting. Fortunately, our 1959 Airstream Tradewind proves the saying can be wrong. The Tradewind has graced these hallowed halls for almost as long as Reparadise has been in business. During that time, we've dabbled with the restoration intermittently. All the work has been performed slowly and skillfully. The result represents seven years of restoration — work done whenever we had extra time to do it — and is now a fantastic base for a beautiful vintage trailer.
To help digest the value of this vintage Airstream we'll breakdown the expenses as we go (what we'd charge you to the same things, if you brought us a camper to restore)
Original Purchase price: $7000
Video Walk Through: https://youtu.be/62VFoKLTW9Y
When we picked the Tradewind up, like any sixty year old camper, it needed help. We started by building a new chassis and subfloor. The team completely replaced the suspension, including new leaf springs, new axles, new brakes, and new wheels and tires. We also added a new electric jack and rust-coated everything. Finally, we wired the chassis (brakes, running/brake lights, electric jack, ect.) to prepare it for its new life. With the chassis and suspension sorted out, we installed a new subfloor using ¾-inch Baltic birch plywood. We then added a floor with seamless Marmoleum. The wheel wells had rotted out, so we built new ones from sheet aluminum. We installed three new water tanks — black water, gray water, and fresh water — low in the trailer to lower the center of gravity.
• New frame:                     $12000
• Rust Resistant Topcoat:  $ 1100
• Suspension, brakes:       $ 2700
• Wheels, tires:                 $ 1200
• Electric jack:                   $  225
• Subfloor, and Floor:       $ 4500
• Wheel wells:                  $ 1000
• Water tanks:                  $ 2500
• —————————————————
•                             Total: $25225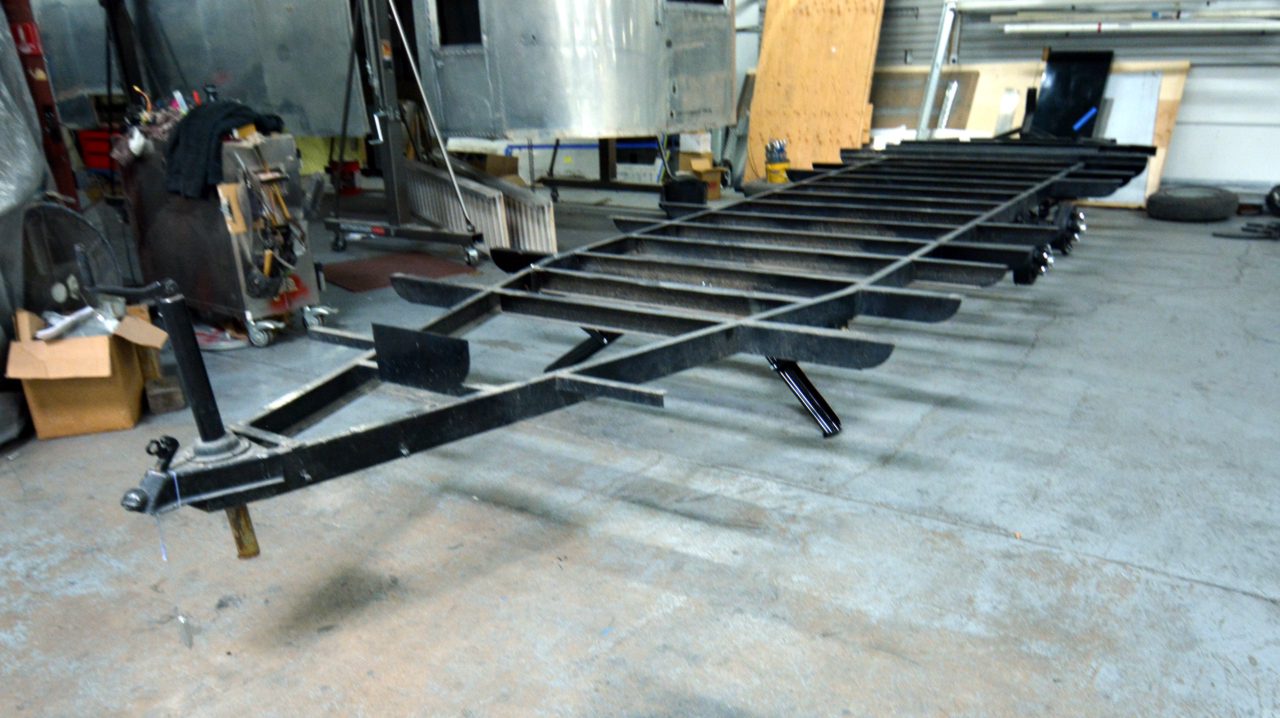 With a solid foundation in place, we got started on the exterior. It needed patchwork to replace unneeded vents, waterfills, and unused hookups. The trailer had experienced some minor exterior damage over the years, and some large skin panels were replaced. We removed all the windows and replaced the seals, gaskets, and window glass. If you've ever owned a vintage Airstream, you know first hand what a challenge the door can be. Worn hinges cause worn latches, which causes the door to slam open when driving — bending the door and making it impossible to shut correctly. This is a new door built on the existing frame with new hinges. It now closes and opens like a new Airstream door.
Think of the Tradewind as a blank canvas — ready to be set up however you want. The current configuration provides for a bathroom in the rear, we also added a service window if you need to use the trailer as a mobile bar, food cart, or party centerpiece.
Body, windows:    $4500
Door:                    $4000
Service Window:  $8000
——————————————–
Total: $16500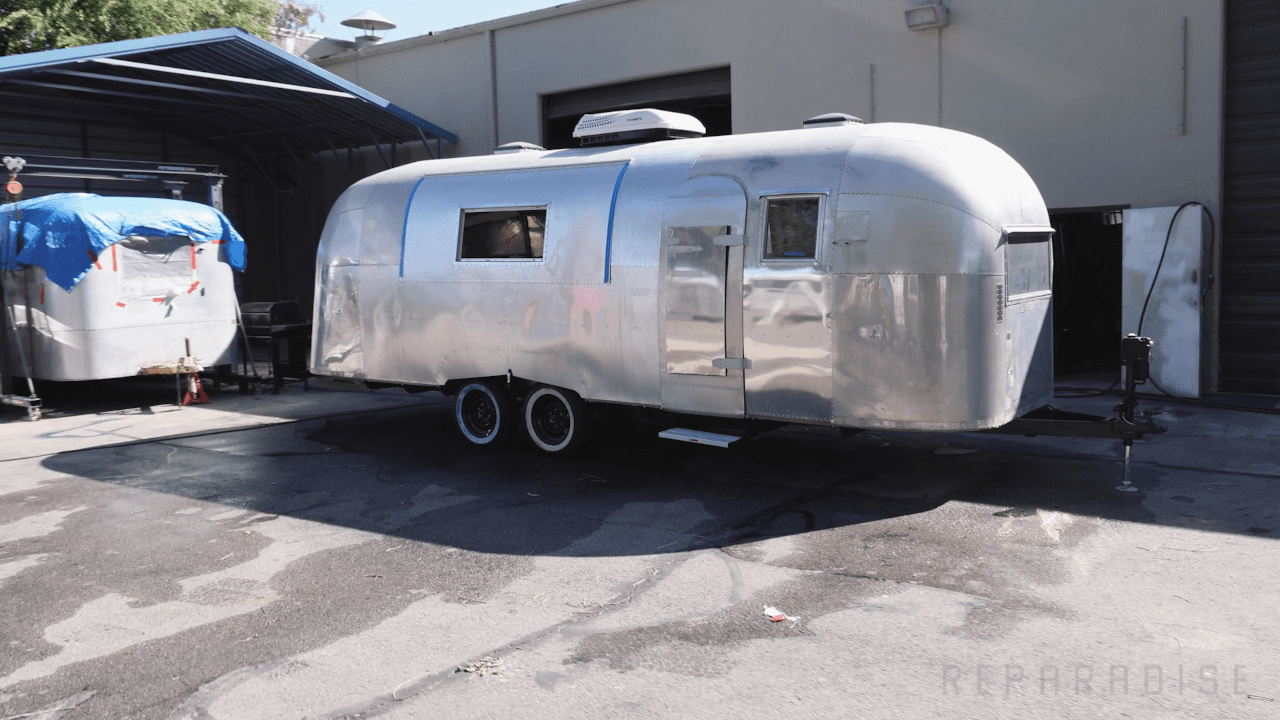 Dometic AC unit: $1800
Fantastic Vents:   $ 600
—————————————
Total: $2400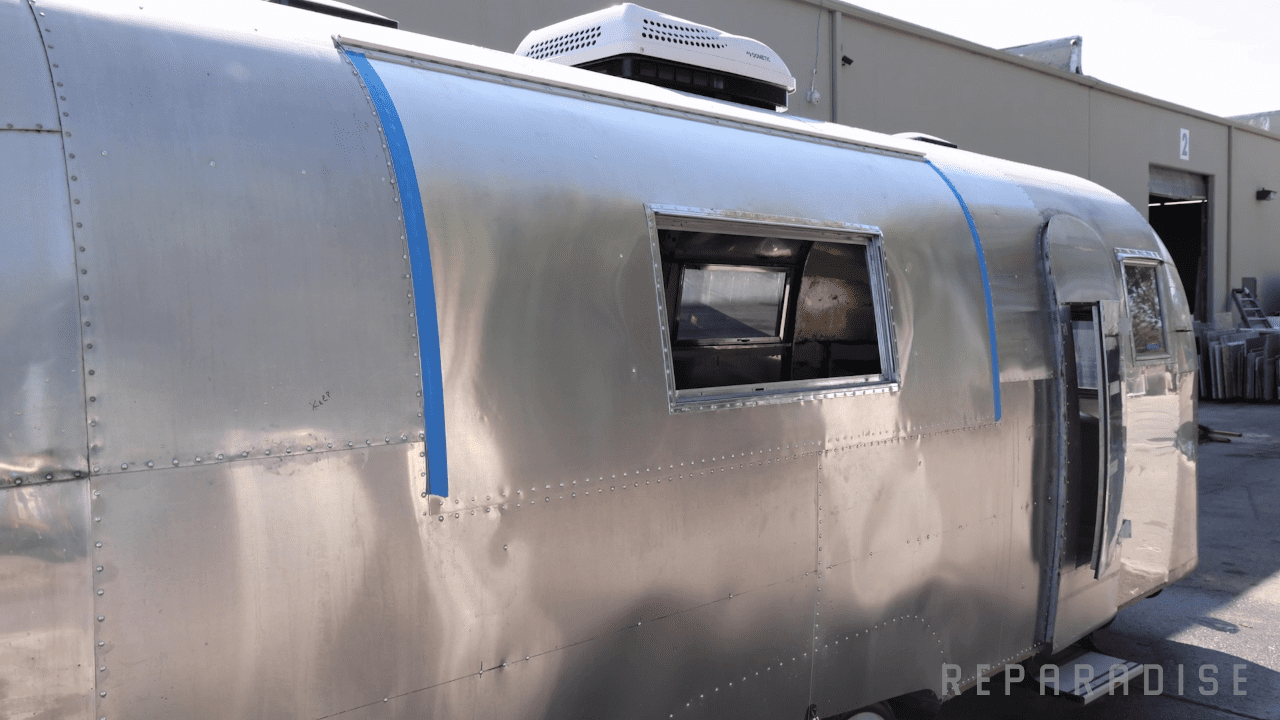 Lots of tired camp trailers come through our doors. Most have been sitting out by the shed for decades and need a total restoration. Others arrive freshly "restored" by the lowest bidder. In either case, we're starting from less than zero. This '59 Airstream represents the rarest of projects — a solid starting point. Over the course of the past seven years, the team at Reparadise has painstakingly brought this old Tradewind back to life. We performed all the work to our sky-high standards. If you've been following along with your abacus, you already know this trailer represents a nearly $50,000 value. We'll let it go for $35,000 as is, but if you commission the rest of the build through Reparadise we'll work out a sweetheart deal. Let's get started.
External Dimensions: 24ft