2021 Sprinter 4×4 VS30 170 High Roof
Full SAGA Camper Interior Kit, Premium Overland Build
We've worked on campers of all walks of life, and this 2021 Sprinter 4×4 VS30 170 high roof represents the culmination of the lessons learned and skill sets honed from that exposure. In fact, during production, sharing shop space next to this Sprinter Van were $200,000 Airstreams in for one-off restorations. This kinship is obvious in the choices of materials, products, and fit and finish used to complete this 4×4 Sprinter Camper Van.
This is not another Midwest factory-built RV. This van is built by technicians, craftsmen, and… dare we say it? …even those who identify as Artists. The Sprinter VS30 170 is a cargo van… in its simplest form, it's boomy, crude, and a bit cold. They're perfect for a 24hr plumbing service or a mobile dog groomer, but far from what one would associate with a Mercedes-Benz product. Unfortunately many builders hastily toss some insulation up, add some walls, and slam a bed and cabinets in — then call it a day. It's still a loud boomy cargo van, now complete with creaks and rattles. We went to great lengths to ensure this coach is quite on the road and comfy at camp. This is accomplished by using premium materials and construction techniques passed over by factories driven by efficiency and cost-cutting. Like every other van builder worth their salt, we insulate and sound deaden the exterior, metal walls, of our vans. Where we stray from the norm, is on our wall construction. These are made with naturally sound dampening Baltic birch walls, upholstered with felt-backed marine-grade woven fabric, or foam pad-backed vinyl, or leatherette depending on placement/wear zone in the van.
Most factories use hard plastics here, while builders tend to gravitate to vinyl or tweed coverings… or sometimes they just line the interior with painted/stained wood. While this is ascetically acceptable, the noise vibration and harshness associated with these materials will wear on one over the long-haul drives. While you're perusing our galleries, take a look at the cowlings around the side and rear door, and around the cab. These cowlings are designed to tastefully finish one of the hardest areas to cover in the van build. Many compound curves and complex shapes often lead builders to hastily butt up their interior walls and slap some upholstery over the factory metal, if they even do that. Next time you get a chance to inspect a van build, these are the details in look closely at, and that separate the rest from the best.
Continuing on to the cabinetry, we use double laminated Lite Ply, with dowel-and-cam construction. Due to this, our SAGA cabinets are lightweight and durable. Something the large manufacturers, like Winnebago, can't claim with their single-laminated particle board and stapled together construction. Go ahead and fall into the forum/user group rabbit hole on how cheap modern RVs are constructed… we'll be here when you get back. Oh, hey! Welcome back. Gruesome, huh? Additional materials we like to use is Riga Heksa Ply. You'll find this in high-wear areas and in cabinetry shelving. On the other side of the spectrum is Maple hardwood, used throughout the van — edge banding, counter/table tops, and shelving. This adds contrast and warmth, that's complimented with stainless-steel hardware, and self-closing hinges, and drawer slides on the dovetail drawers. This is not traditional RV cabinetry by any means.
Another thing that differentiates this Sprinter Van camper conversation right away is the simple rear bed system, and the openness of the interior that results from this. The bed leafs quickly and securely store when not in use, allowing full access to the storage zones — allowing you to use that space. Most bed systems are always deployed or always in the way. Now you can use the cabinet tops as a work station, and easily walk around the camper. The bed system works with our SAGA Rear Cabinets. One large rear cabinet houses the powerful off-grid electrical system, while the other side is completely wide open for whatever gear and supplies you need to stow. What's that? You're interested in that power system? Well let's take a look at the build, and the components that allow this Sprinter van run its Air Conditioning unit for extended periods off grid.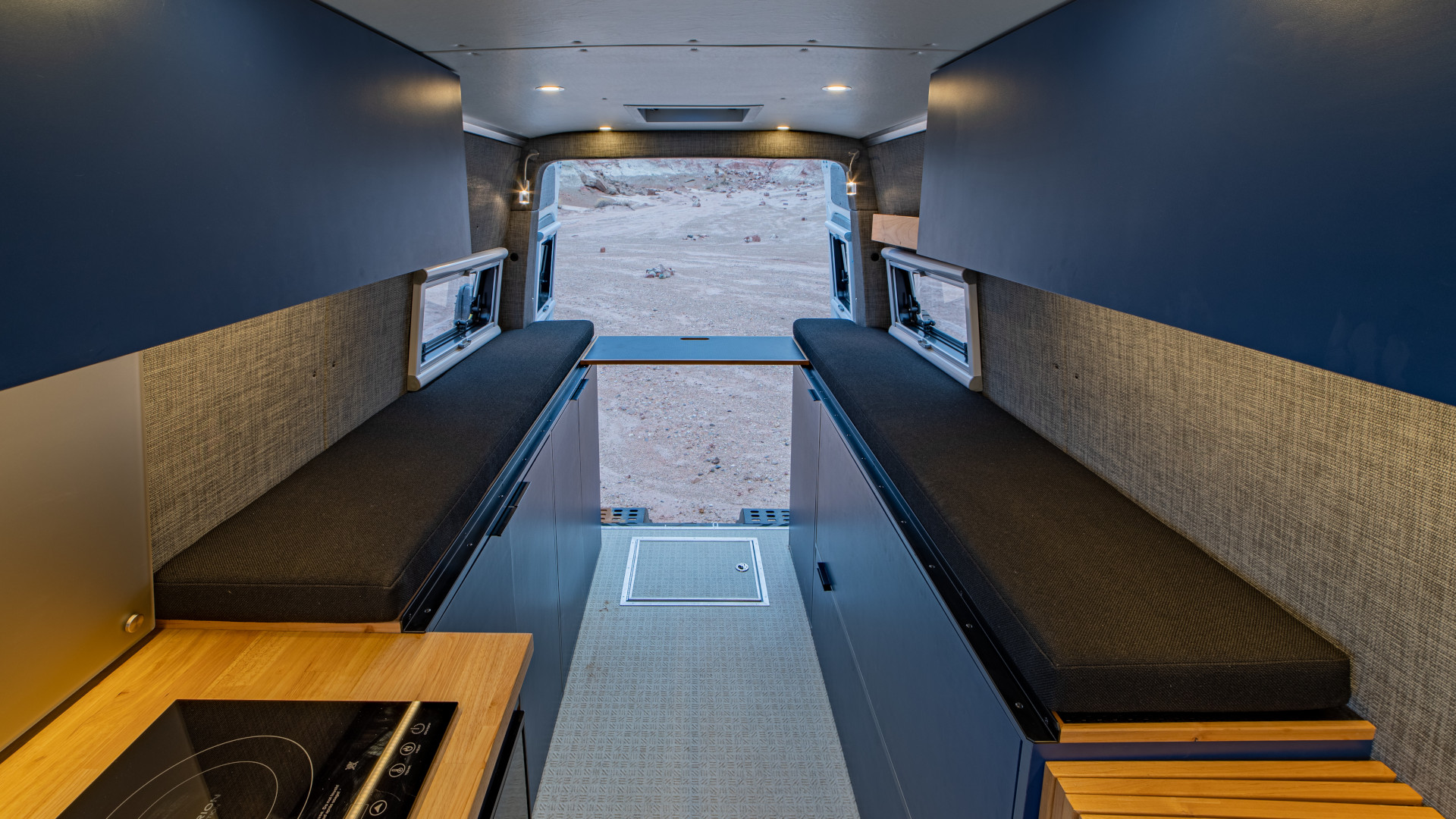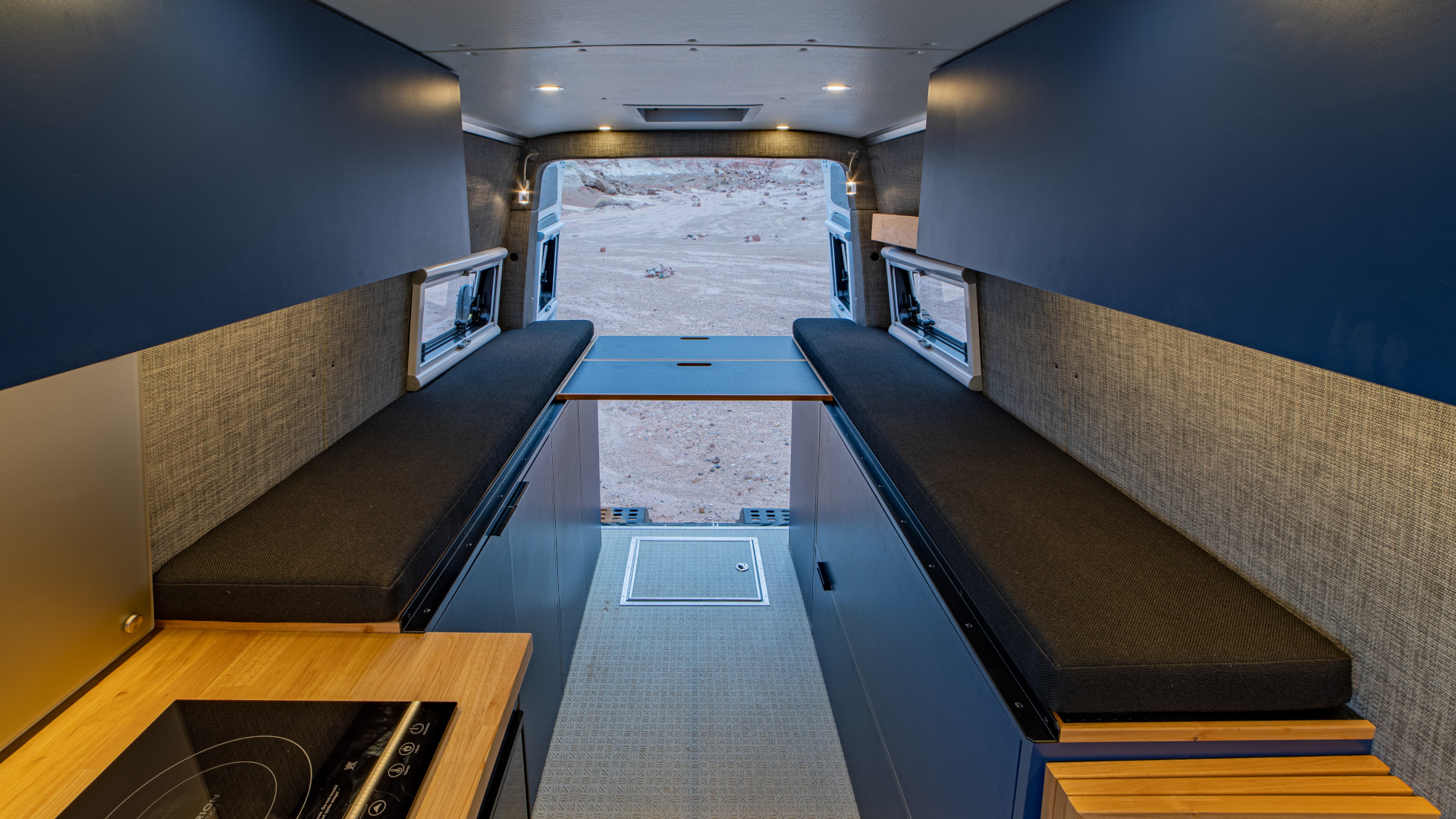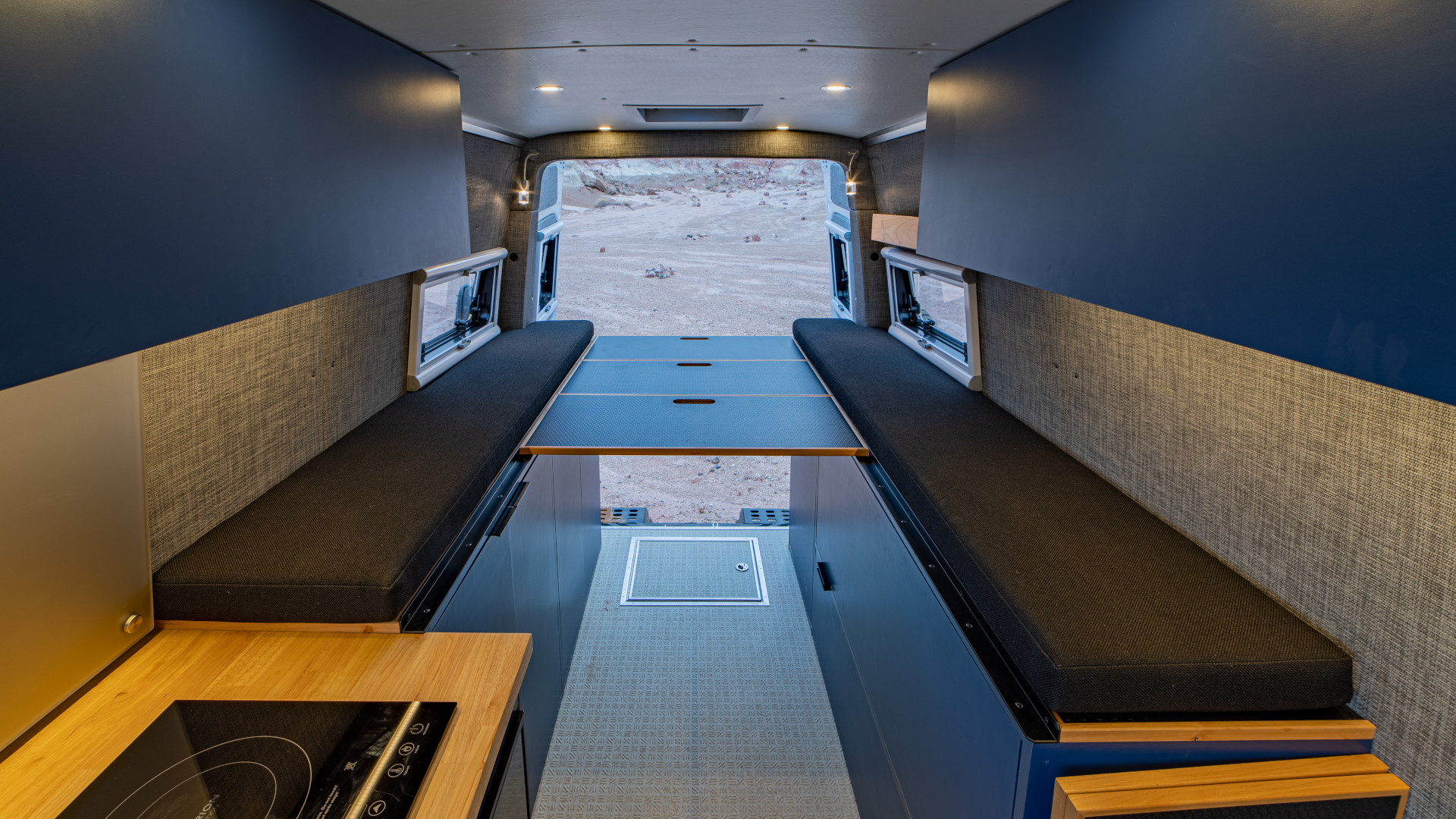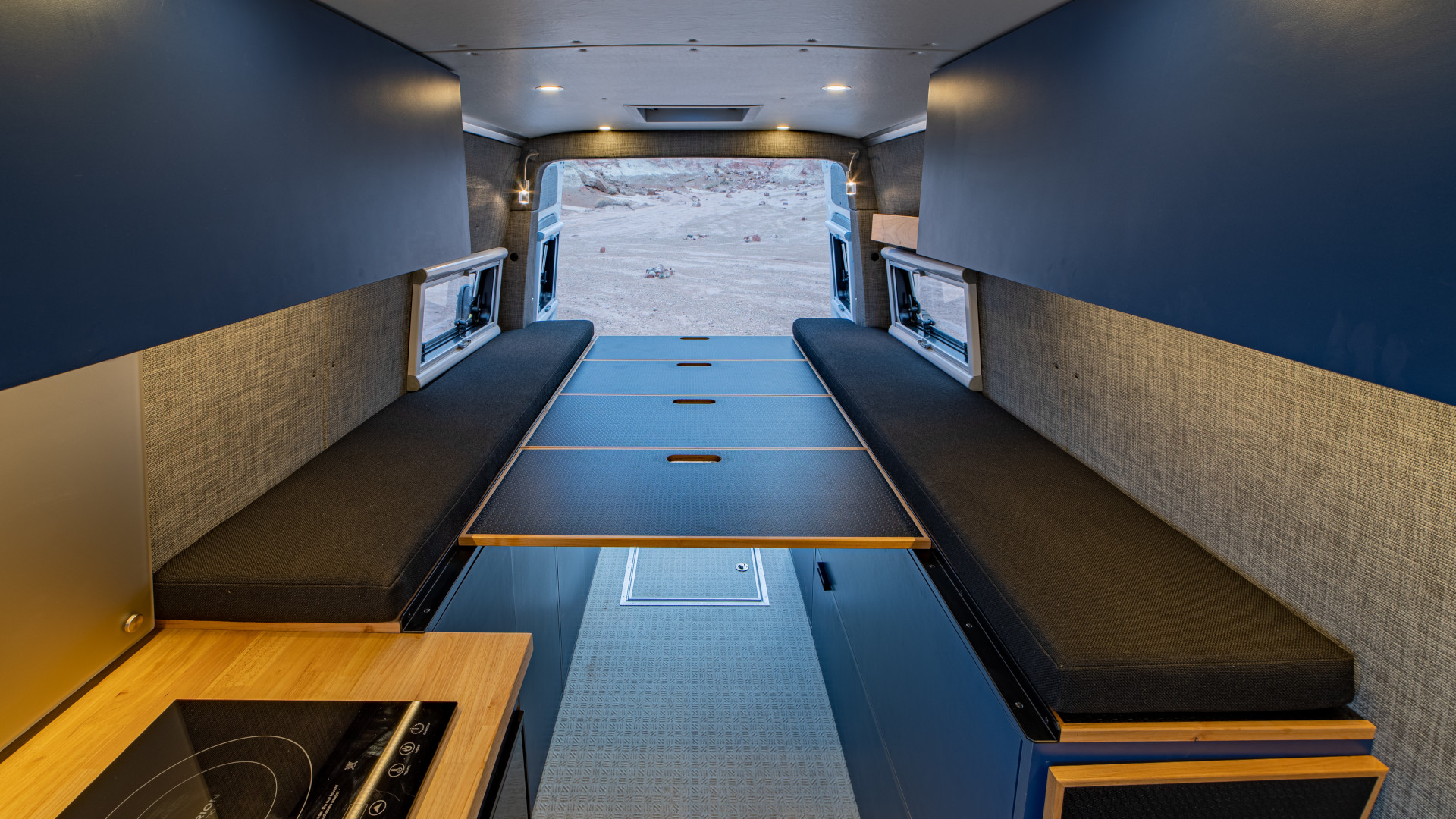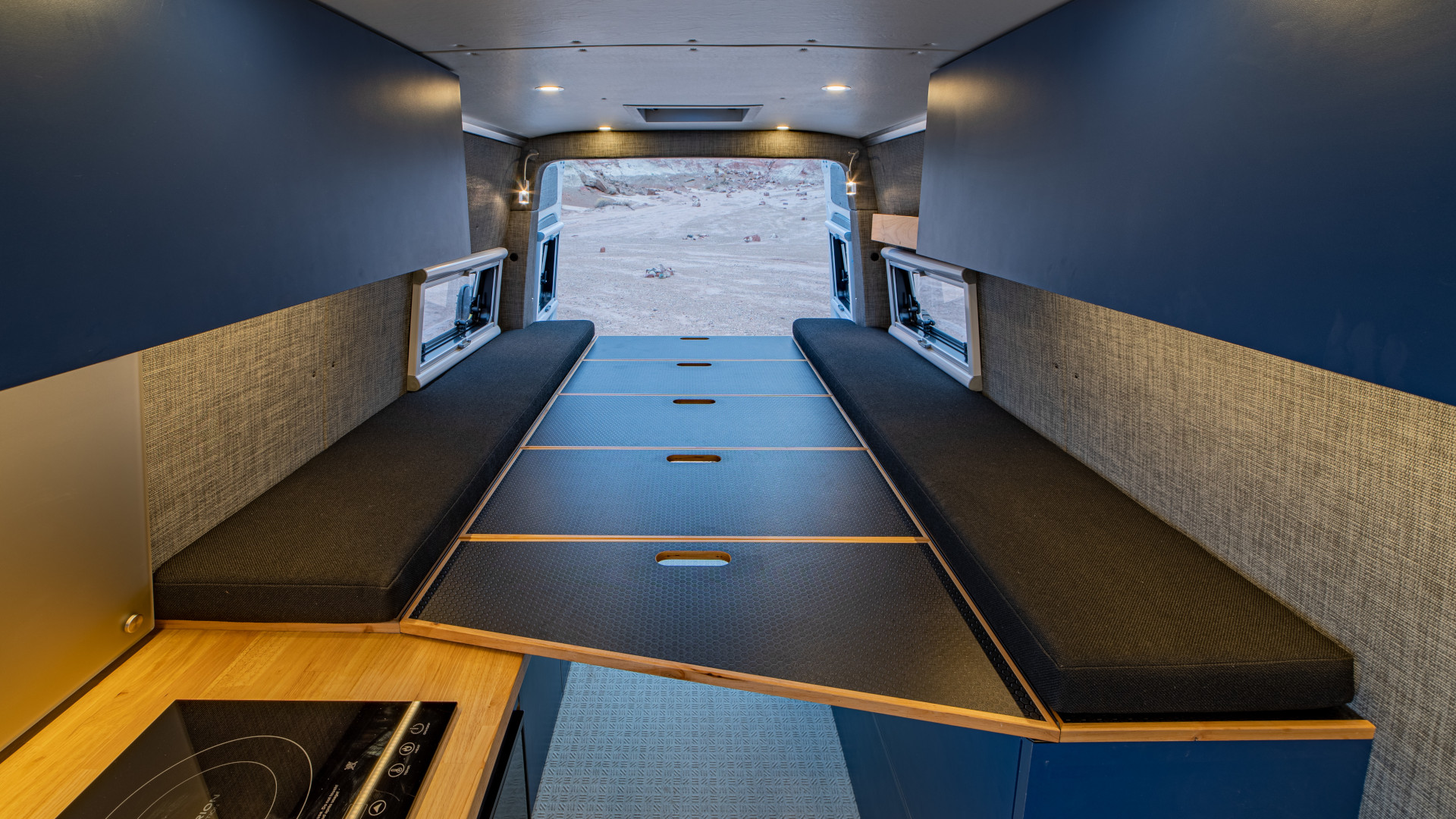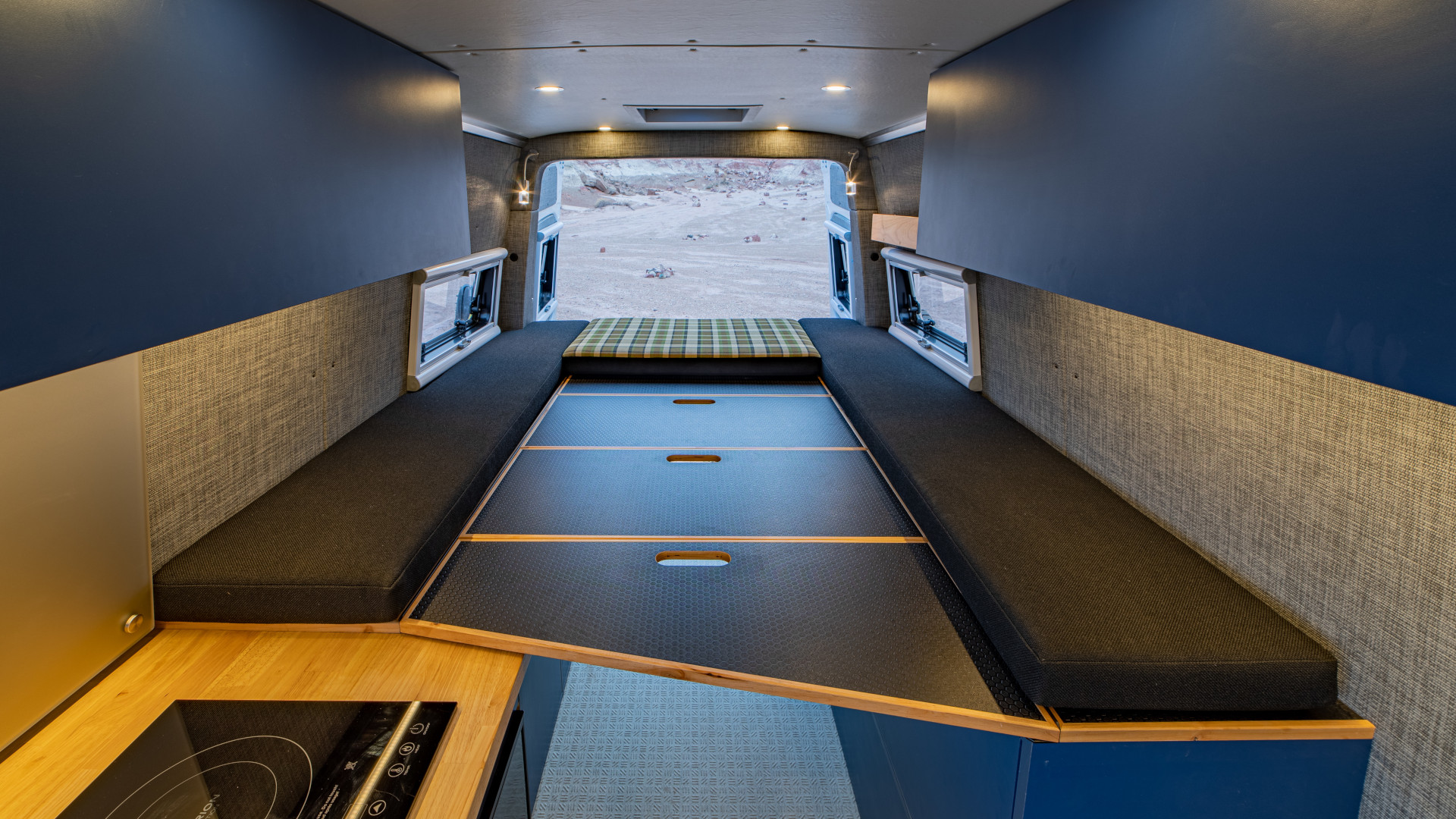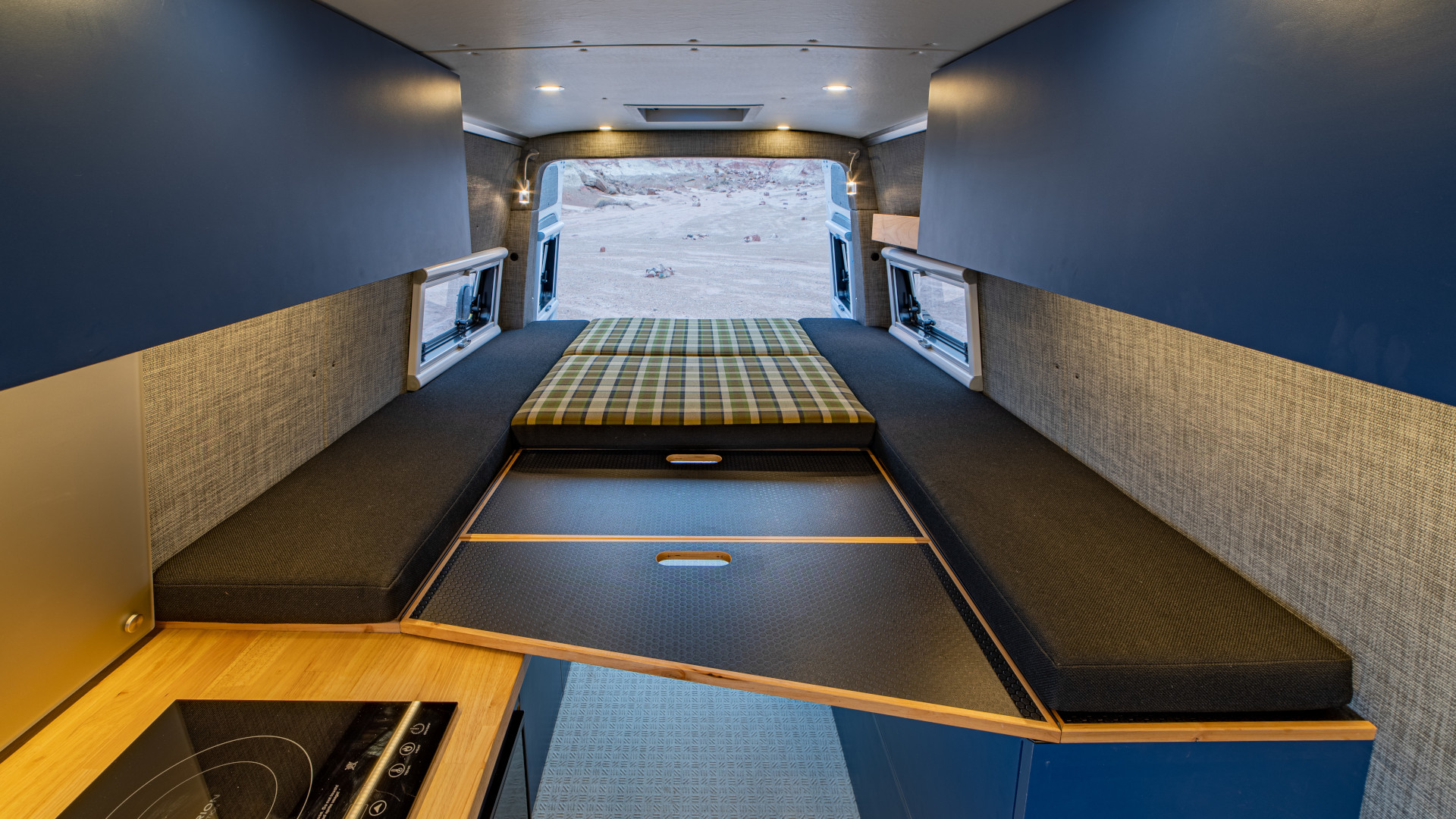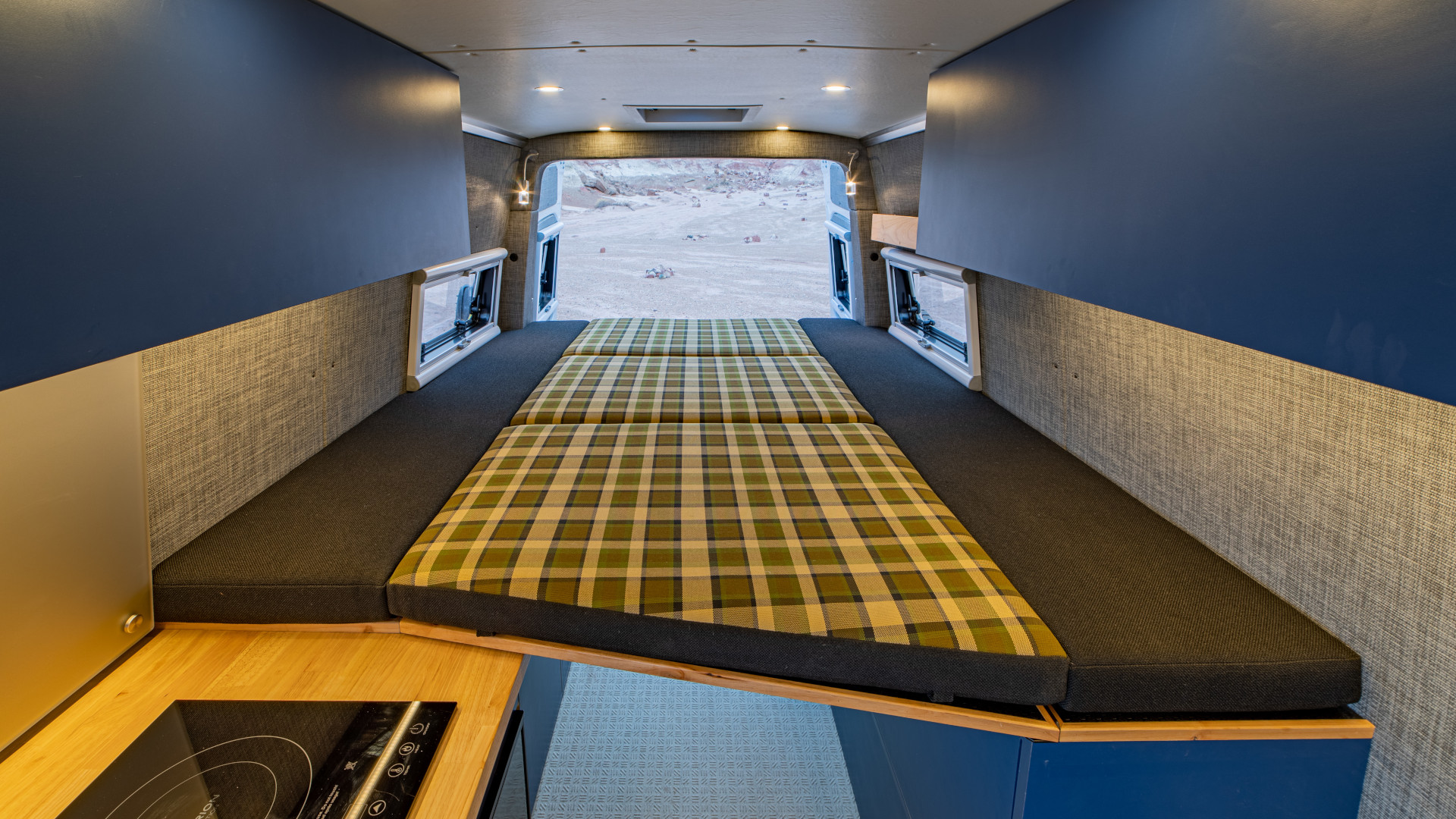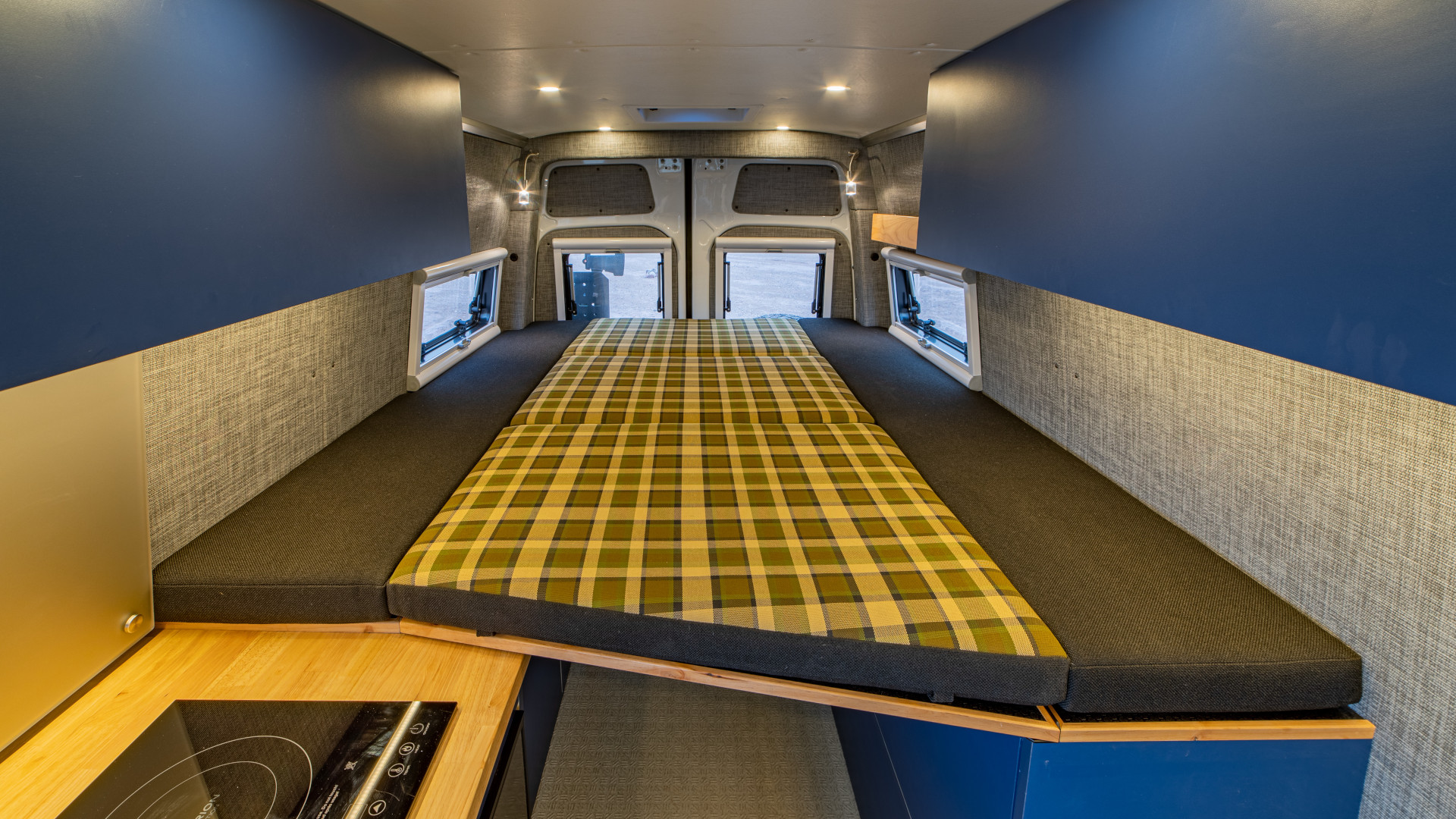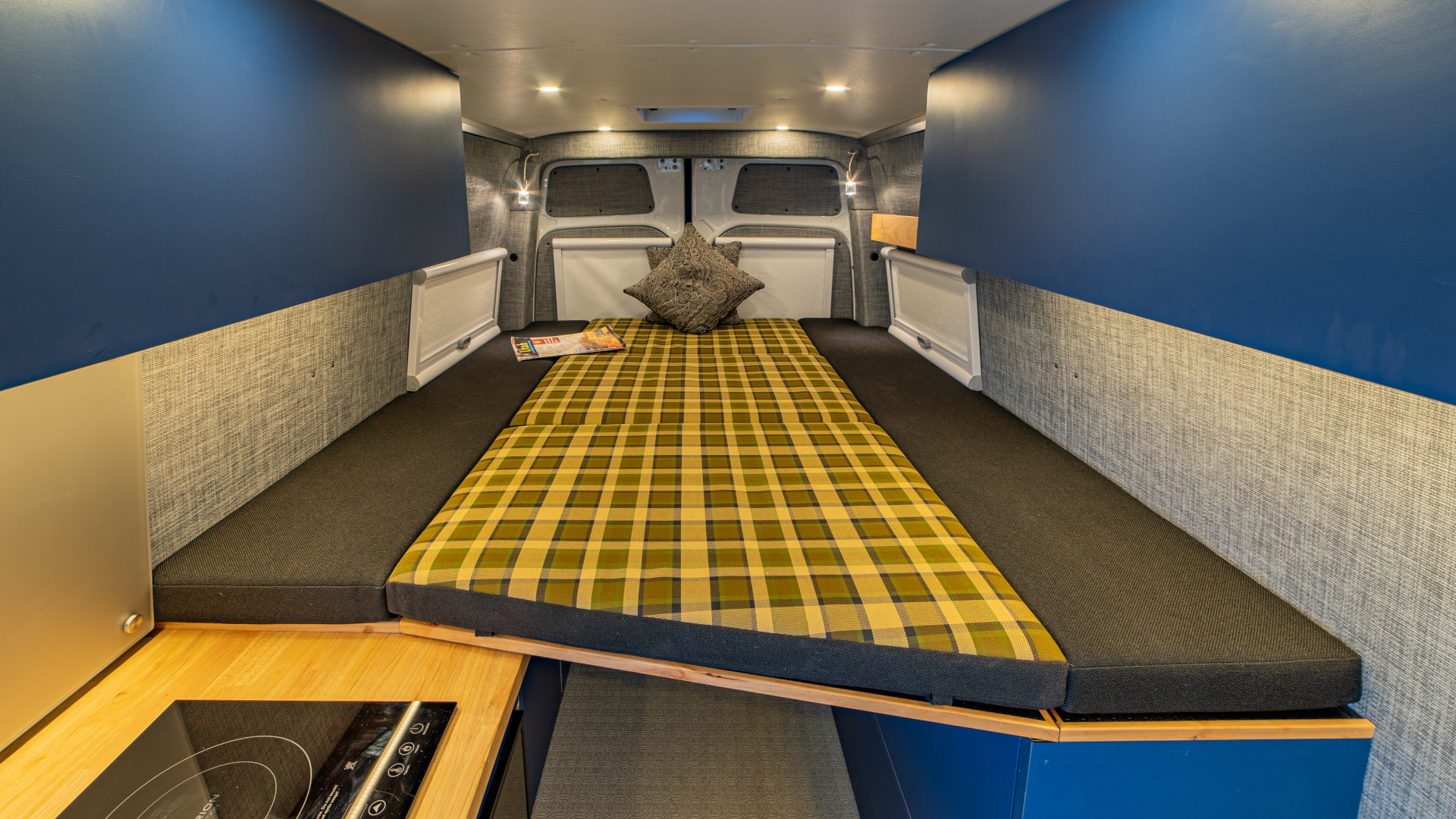 With a possible total of six lithium batteries (four pictured), a Victrion Multiplus 3000 inverter/charge controller (bluetooth electrical information via the Victron app), a Nations 24v auxiliary alternator for charging battery bank, and a solar ready combiner box on roof with room for 300watts of solar and a side port for suitcase solar panel — this Sprinter van can power it's AC unit for hours and hours at a time. It could also run a small cabin if you need too. It's essential a giant generator with it's 24v power system.
What this power system is running, on top of the air conditioning unit, is a Large 4.6cu. ft. Isotherm 130 fridge, Furrion Single Induction cooktop, espar 12v diesel heater, LED puck Lights, 12v water pump, and more. There's no need for propane tanks, or an auxiliary generator and fuel tanks with this streamlined power system. With this auxiliary 24v alternator based electrical setup, you're not going to worry about conditions for solar. Go ahead and park in the shade. It's simple, lightweight and efficient. Hmmm, kinda like our interior layout.
On the outside of this 4×4 Sprinter van, it is up fitted with the necessities for off-highway adventures — and, with high-quality, lightweight components. No rust prone, and heavy steel used on this build. Weirdly, just like it's systems and interior we put quality and weight considerations first… this seems to be a recurring theme here. We're one of the largest stocking Sprinter van up-fitters of Owl Van components, so naturally you'll find some of their stuff along for the ride. Likewise Aluminess, Rugged Design Concepts, and Odin Working Group help bring this beast together.
Attached to the low-profile, read aerodynamic, roof rack is the easy to use Fiamma f45s Awning,and Zamp solar panels. The modular rack surrounds an air conditioner and vent fan from Dometic. We've grown to prefer this rack for our Sprinter Van builds due to it's low wind noise, slim visual impact, and ability to work around whatever you've added to the top of your Sprinter Camper Van. Also stealthy nestled into the front of the rack is a Code 4 Light Bar, and on the sides, Code 4 Amber lights pods.
This Sprinter is one of many we've installed our easy-to-assemble SAGA interior kit that's out the doors and on the road. If you're interested in something similar, you're in luck. Our SAGA interior kits are available for purchase without the van… or if you like us to build a van like this our shop is ready for the next project.