Jerry Garcia Hand-Picked 2007 Airstream
Custom Built Vendor Airstream for the Jerry Garcia Family
We've worked on dozens of Airstreams over the years. Most of them have been ancient — 50, 60, even 70 years old. Not the case, here — this is a 2007. It's taller and wider than the vintage trailers, so it's perfect for duty as a rolling showcase. This one rolled in with none of the problems that plague older Airstreams. The chassis was in good shape, so we didn't have to remove the shell to work on the frame or reinforce it. It didn't need a lot of bodywork, either. Everything — windows, doors, axles, hatches — was in good shape. That meant we could get right into making the upgrades requested by the customer. A welcome change.
The customer was Garcia Hand-Picked — Jerry Garcia's daughter and other family members. They wanted a mobile merchandising trailer to travel the country and set up at shows and events. It had to accurately reflect the brand. It had to be appealing to the eye and welcoming. Most of all, it had to be easy to set up.
At the rear of the trailer, we built a large merchandise display case with storage drawers underneath. We also installed a large merchandise display shelf above the windows. For the countertops, we used Paperstone — a durable material made from recycled paper that goes with Garcia's sustainability mission. The interior is dominated by a large flatscreen surrounded by speakers — our take on the Dead's famous Wall of Sound. At the front of the trailer is a lounge area and Point of Sale counter with USB ports, storage, and outlets. There's also a 12-volt Isotherm fridge with freezer.
We started with an automatic self-leveling system. They can just pull up, detach the Airstream from the tow vehicle, and hit a button — the Airstream will level itself no matter what surface they parked on.
Despite being less than 15 years old, the Airstream still needed to be re-wired for modern electronics. We started by adding as much solar as we could fit on the roof in the form of Zamp Obsidian panels. Because the trailer has no refrigerator vents, bathroom vents, or an air conditioner, we had lots of space to work with. That turned out to be a whopping 1400 watts of solar. That's enough to power everything in the trailer — no problem. The electronics are hidden under the built-in bench seating in the front lounge area. There, you'll find the Victron solar controller, 600 watts of Lion Energy lithium batteries, a 110 and a 30-watt Victron inverter. Interior lighting is handled by dimmable LEDs in seven zones. Position-adjustable LEDs above the main showcase can be moved to highlight different areas. Finally, a touchscreen control center at the end of the POS counter controls the lighting and the leveling system.
We also added a service window. At 14-feet long, this floor-to-ceiling service window is the largest (and most beautiful) one we've done, yet. It's so nicely sealed when it's closed, you can't even tell it's there. We used gas shocks to make it easy for one person to open it and two sets of stairs that swing out on either side of the door. All the design, engineering, and fabrication were done in-house. It uses a simple hook to open (the same one used to extend the awning), and it locks to a built-in bench to keep it secure on the road.
"There is a road, no simple highway, between the dawn and the dark of night, and if you go, no one may follow, that path is for your steps alone". - Jerry Garcia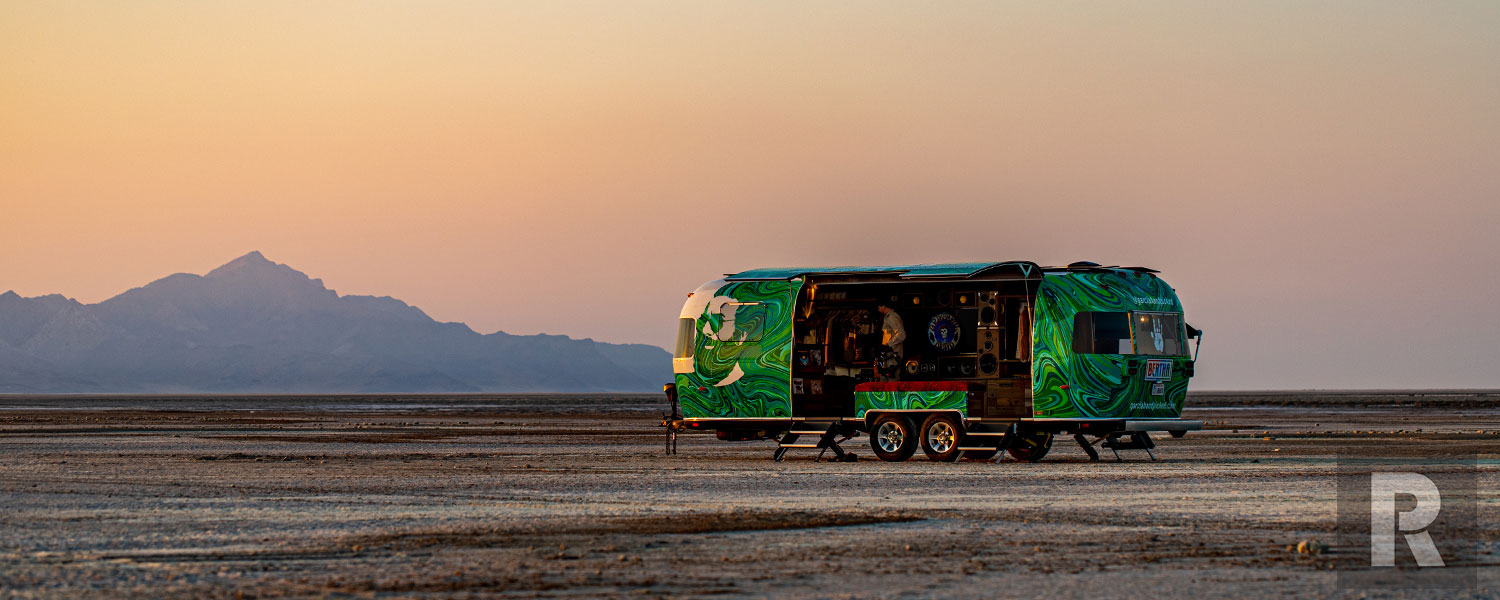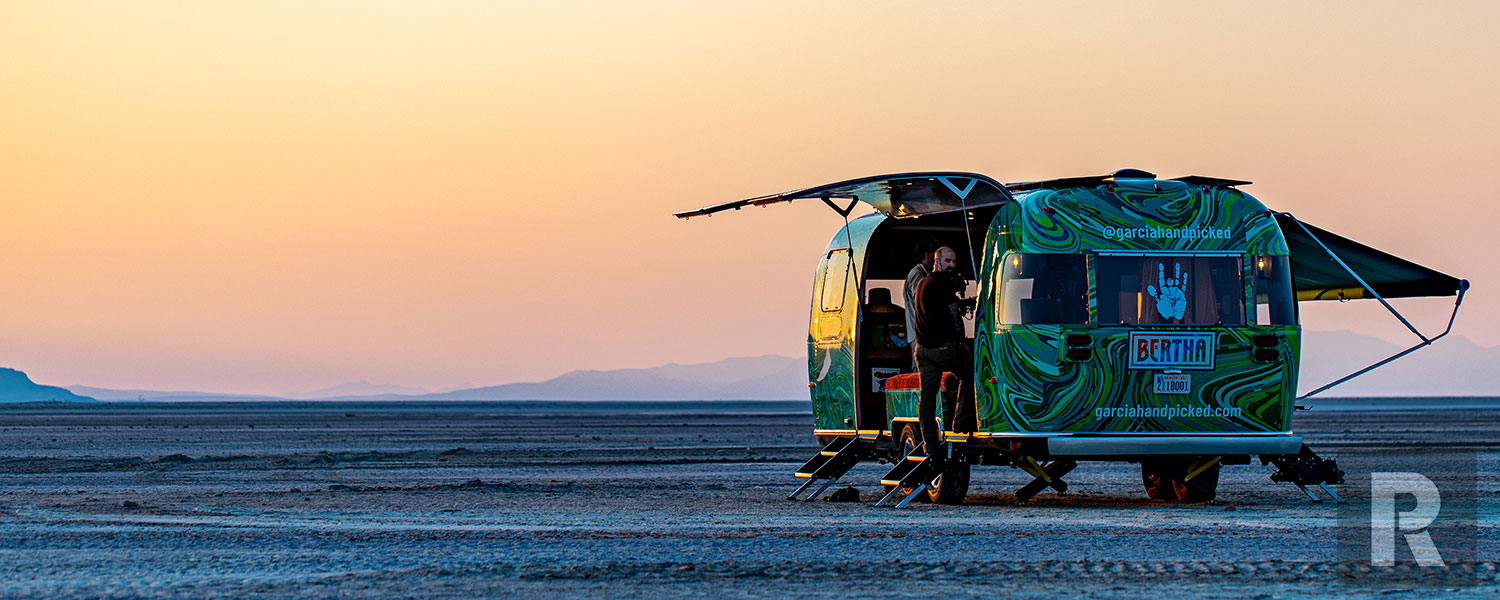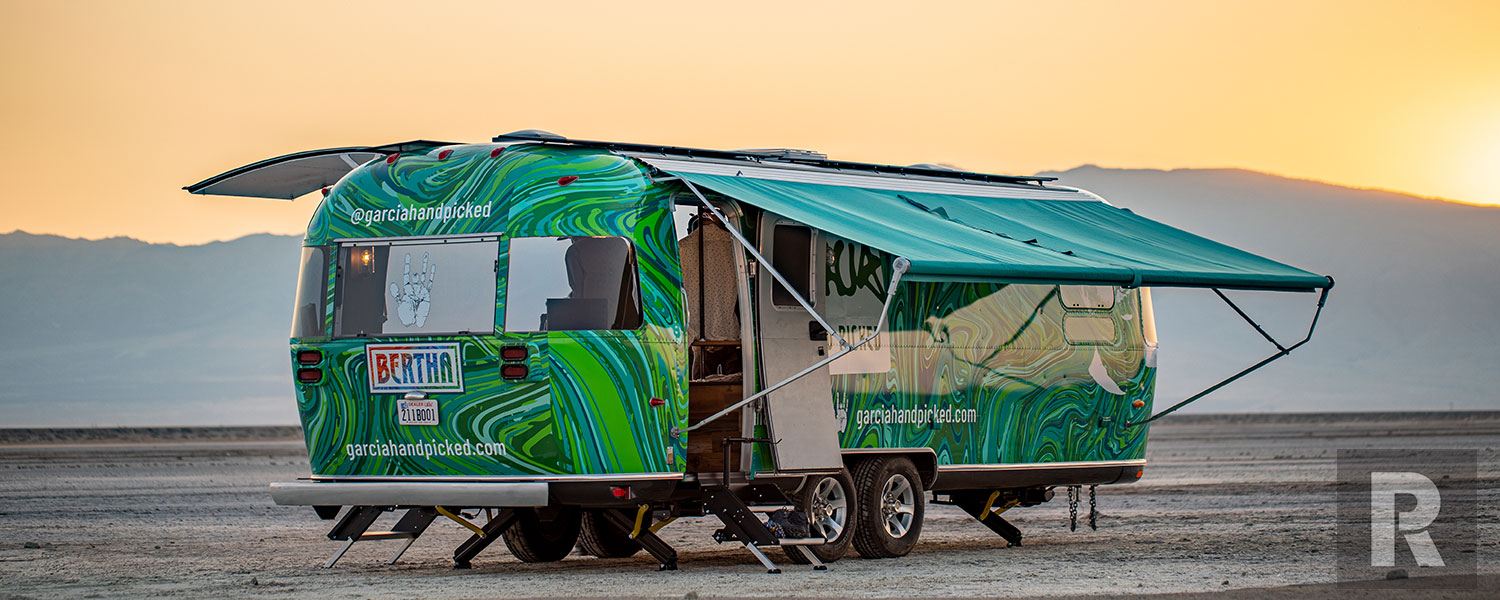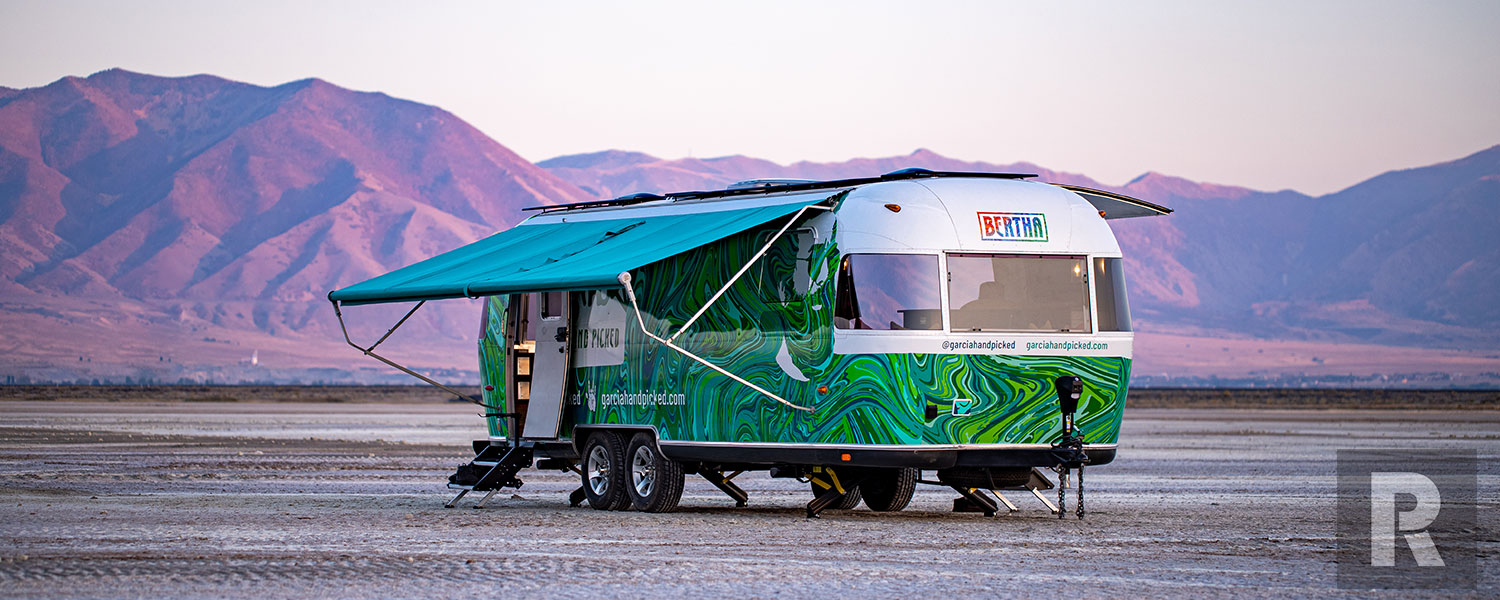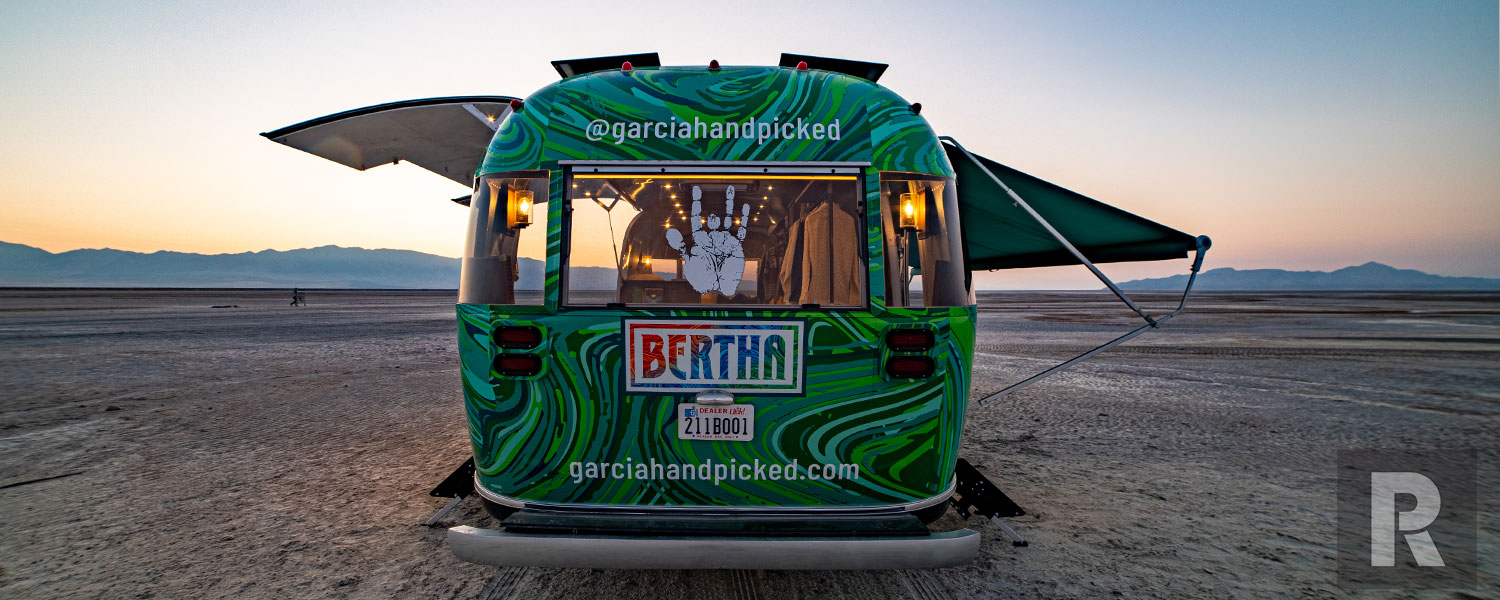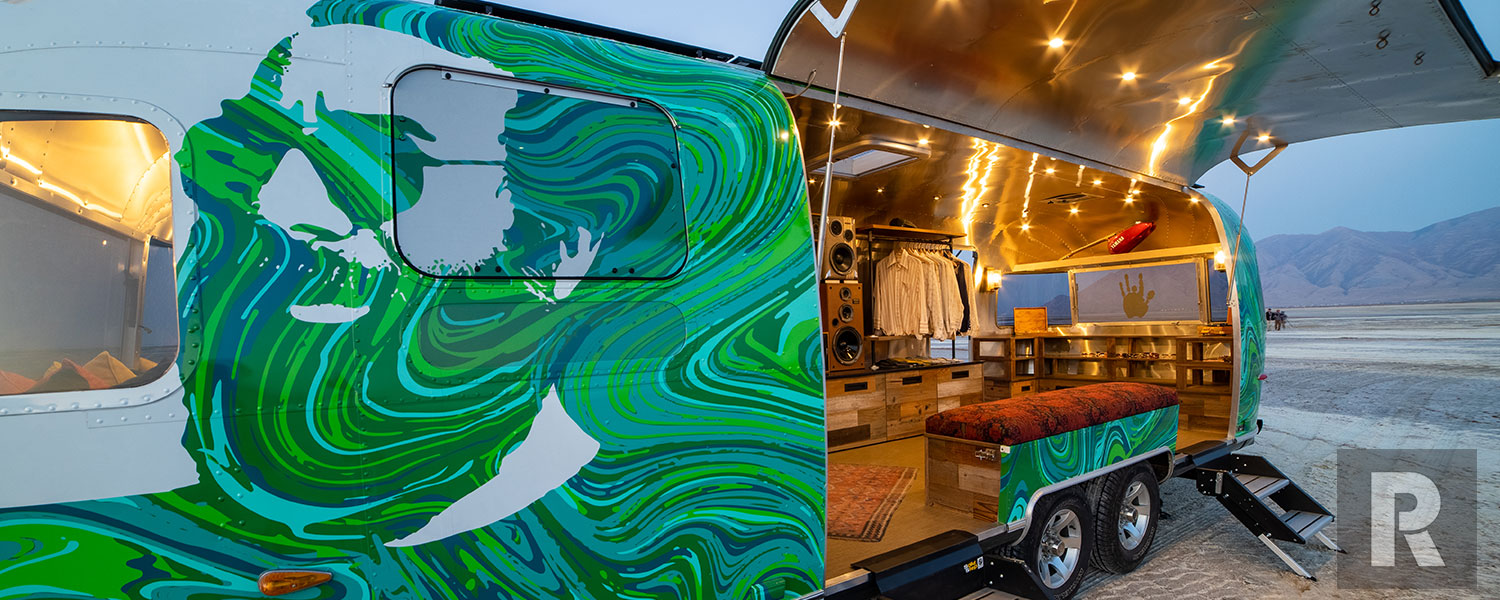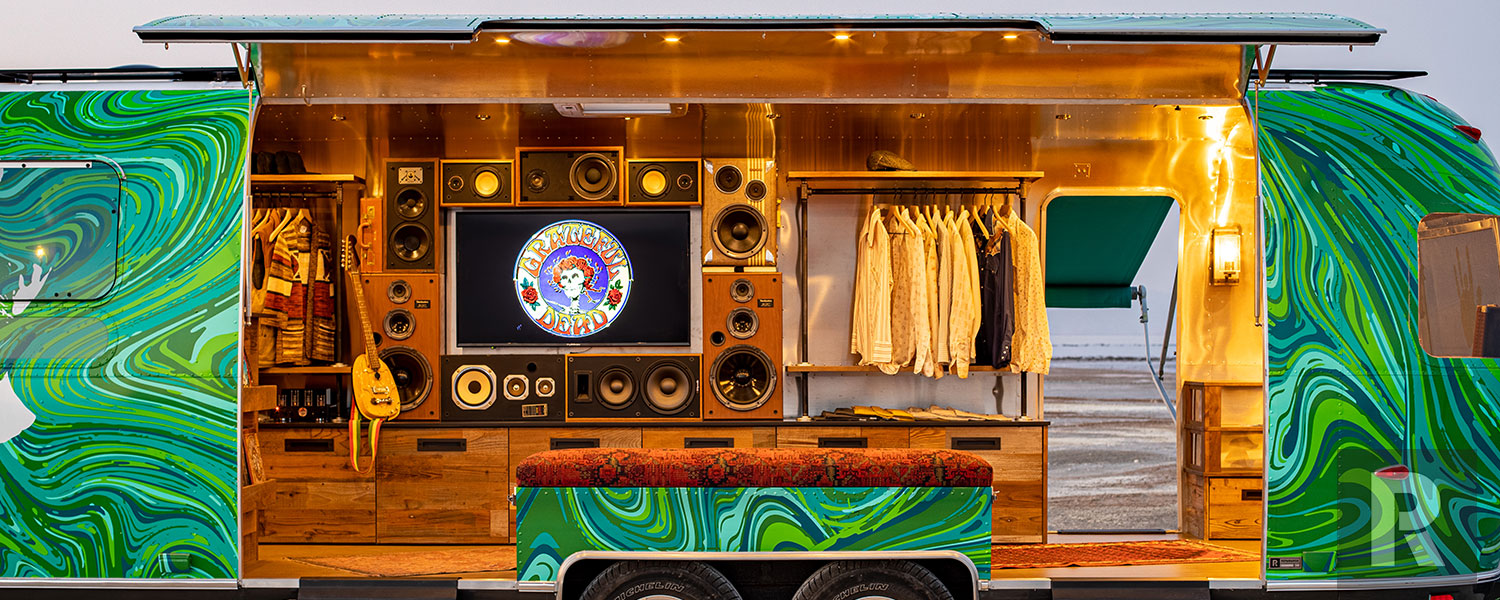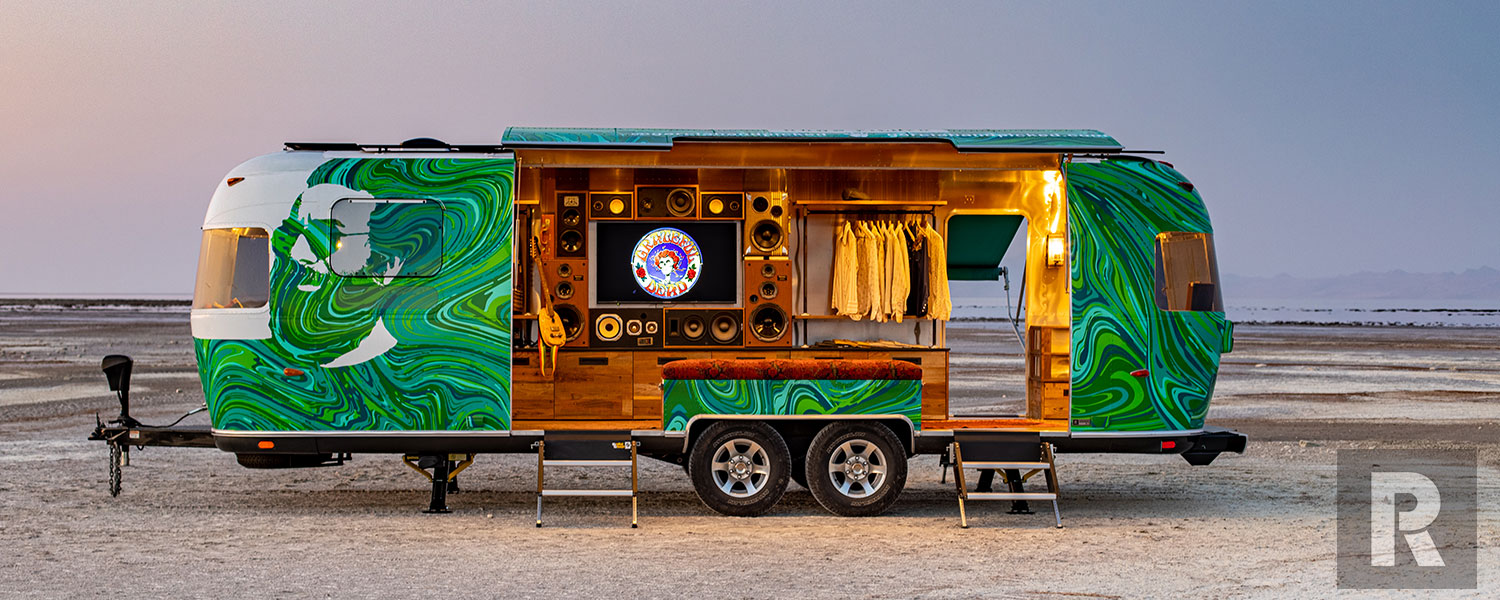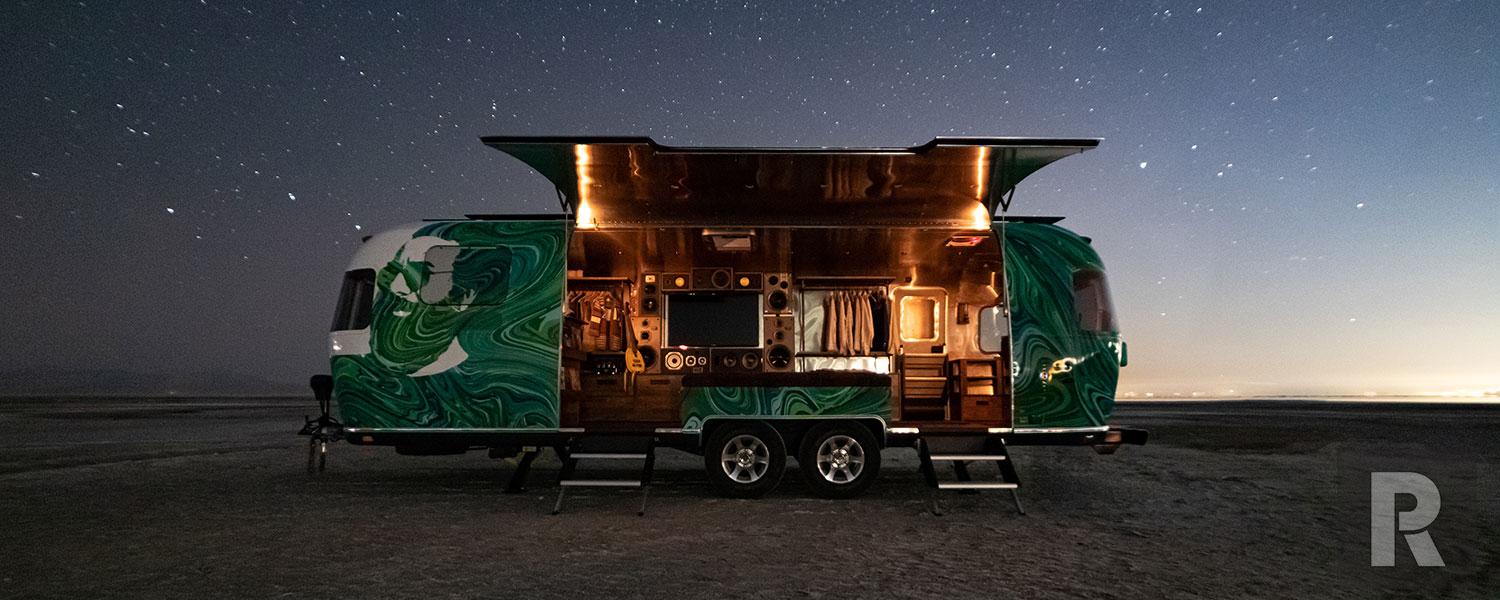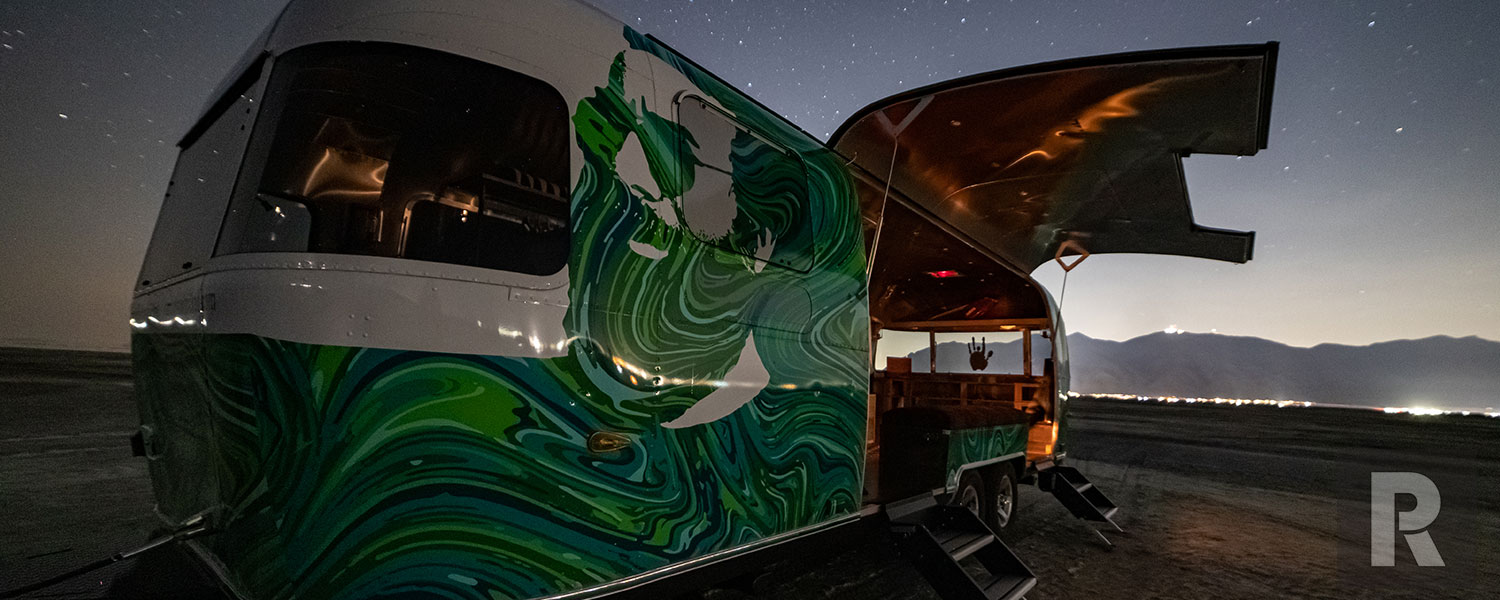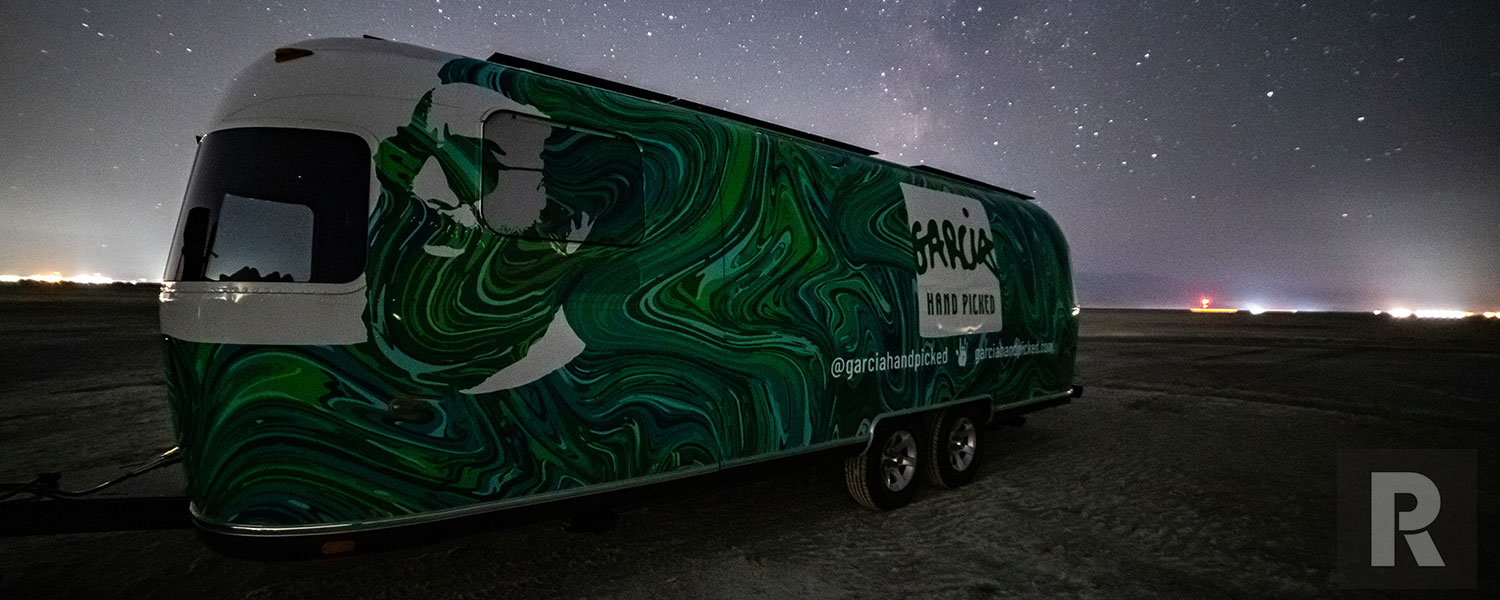 Because this was a much newer Airstream than we're used to dealing with, we were able to focus on the upgrades, rather than performing a full restoration. The whole job took about three and a half months — quick for a 30-foot Airstream. That includes gutting the trailer, rewiring, building the service window, and building out the interior, solar, and electronics. The trailer was then finished with a trippy-dippy psychedelic wrap — the perfect finish for Garcia Hand-Picked.
If you'd like to take a look behind the scenes at some of the work that went into this then click here or to here check out a video.
But If you're really ready to transform your life then drop us a line!
Contact us a today1-801-972-5211, or email inquiry.