Mercedes-Benz Sprinter 170 4×4
Full SAGA Camper Interior Kit, Premium Overland Build
Built using our SAGA cabinetry, the Mercedes-Benz Sprinter 170 4×4 has the latest off-grid electrical technology and is up-fitted with choice Sprinter overland components from our store. This escape pod shines in a sea of hastily assembled cookie-cutter adventure vans. Don't believe us? Go check out the latest offerings from industry heavy-hitters like RV behemoth Thor Industries. What you get over there is hard plastics, a crowded interior, and systems relying on already antiquated equipment … and, don't get us started on the hasty build quality.
We know firsthand how shitty the RV industry is because we up-fit these Sprinter vans and clients have us fix those glaring issues when the mouth breathers at dealer service centers can't get it right for the third or fourth time. Aside from a small group of manufacturers, for the last four decades, the RV industry is complicit with poor quality and cheap materials. It's like they never left the malaise era. But, what do you expect when your clienteles idea of camping is parked on a concrete pad at a KOA and a fancy dinner is a night at an all-you-can-eat buffet. This Sprinter van is the antithesis of that.
The first thing you'll notice when stepping into one of our Sprinter Van builds is the airy, inviting space. Stuff two people into a Winnebago Revel, and they better be well acquainted with each other. Jam any more in, and it quickly gets awkward. One of the main reasons for this is our choice of bathroom and shower setup. Most commonly, RV manufacturers shove giant bathrooms into their vans. We do the opposite, for the reason that the space is seldomly used. 
If you need a shower, there's a curtain that attaches to the ceiling and floor. When you're done the shower's put away and your Sprinter's interior space is back to being uninhibited by a big empty box. Likewise, we dedicated the smallest space possible to a cassette toilet. While it's intended for traveling in comfort, this van is not a restroom on wheels. It's there if you need it, in an emergency. Something you can't really get with a truck or SUV. If it's not an emergency, search out some facilities at the next stop on your trip.
Ok, let's move on from potty talk… with a decade of combing through fabrics, textiles, and solid surfaces, for our custom Airstream restorations, you can clearly see what you get here is a mix of durable yet tactile fabrics — that's not just anther tweed-clad adventure van. Furthermore, we're working with some of the best upholsterers Salt Lake City offers. The tautness and stitch lines throughout this Sprinter vans interior make it clear nothing was done by a friend's mother in a bitch-and-stitch group (no offense Mom, we love your quilt!). Like the fabric choices and stitching, the maple countertop and tabletop are not something you're going to accomplish with a butcher block from the national chain hardware store.
Milled in-house, it's clear our carpenters are skilled craftsmen with a love for their trade. The difference is not only visible but tangible too. With respect to our late carpenter Bryan Rowe, we added an edge kerf in his style. To keep these details visible we rely on high-quality architecture-grade lighting throughout the Sprinter van build. No yellowing Amazon strip lighting here. There are multiple zones, and our interior lighting is on dimmers to easily set the right mood. When it comes to switches, most builders go for contra-style switches. The same you find on ATV, jeep, and pleasure craft. 
Those may work for them, but they don't for us. They're designed for use with bulky gloves, and in environments where dirt and mud are common. Not ideal for high-end campers. Our switches are crafted in a style that respects the scale and aesthetic of our mid-century modern Airstream designs. Powering these switches is a 24-volt electrical system based on the best from Victron, Nations, Bluesea, and Zamp.
This powerhouse can run this van's Dometic AC unit for 4 hours, and it can be set up to auto-start and high-idle the engine if you need more off-grid climate control than that. The battery bank (2 24v 100Ahr Victron Batteries) is quickly charged by a Nations auxiliary alternator, we also added two Zamp 100-watt solar panels up top to keep this Sprinter charged on those sunny days. On the other end of the weather spectrum, a Van Life Tech Siesta System warms the coach and instantly heats the water. 
Hand built by experienced professionals, one van at a time
For holding tanks, there are 20 gallons of fresh, and on the outside, a 22-gallon grey water tank is mounted underneath. Moving up from there, we can take a look at the exterior of this Sprinter Van. The first thing there you might not notice. Go ahead and scroll through a couple of those photos up top and see if you can spot it… we'll wait. Ok, Give up? What it is, is you won't find the side of our vans littered with vents, access doors, shore power hook-ups, and warning stickers… what you get here is the sleek Sprinter van exterior un-interrupted. 
We complemented the work Mercedes-Benz engineered with a high-quality vinyl wrap that's not another topographic vanlyfer exterior as played out as the Subaru-dog-couples' Impreza with a mountain silhouette vinyl decal. Barf. What you get here is our take on the modern urban camo mellowed out a bit — with a hint of mountain vibes… no pine-tree sleeve tats here. 
When it comes to up-fitting Sprinter Vans, we've been working with vendors since the early days of the 2nd Gen Sprinter Van (NCV3, for you vehicle model designation nerds). What you see on this van is what we prefer to work with, not what's unsold overstock. At the front, a CAtuned Off-road bumper with Warn Winch keeps the front silhouette slippery and sleek as Mercedes intended, while a 12k Warn Winch gives you peace of mind when venturing beyond the beaten path. For additional lighting, we've spec'd Code 4 Monster 7 Amber Lights on the bumper and a 43in light bar on the Odin Roof Rack.
Rugged Design Concepts side ladder. For protection and ease of ingress and egress, Aluminess nerf bars and a Rugged rear bumper wrap up this Sprinter's exterior package. except for the wheels and tires. Forgot those. We like the Falcon Wildpeak ATW3 for its balance of road noise and off-road traction. They'll get you up a snow-covered canyon to the resort, and claw their way through loose mud and snow. We spec the 265/70R17 size as it fills the wheel arches nicely without putting a damper on fuel mileage or drive-ability like a giant oversized wheel and tire package.
That about wraps up the exterior, overland bolt-on treatment of this Luxury 4×4 Sprinter Van… but, it doesn't conclude our bashing of the RV market. That's right, there's more! …
Traditional RV windows suck. First of all, manufacturers black out their windows to a limo tint. That's great if you're holed up at a crappy RV resort with fellow 'campers' in the next stall 10ft away. It's also great if you want to hide out in a dank dark cookie-cutter cave to binge watch 2nd-rate Hollyweird remakes consuming Twinkies and soda. Tinted windows in the outdoors are lame, bring that outdoors in!
Here's our other gripe with traditional RV windows, they barely open. Often, they only slide or tip open a half, to a quarter of the size of the window — letting a wheezy breeze in at best. The Tern Overland Artic Tern windows we use swing all the way open allowing the entire window space to let that fresh air in. There's no dank dark cave here. If you do need some privacy, these windows also feature a built in blind, and a sliding screen keeps the bugs out if needed.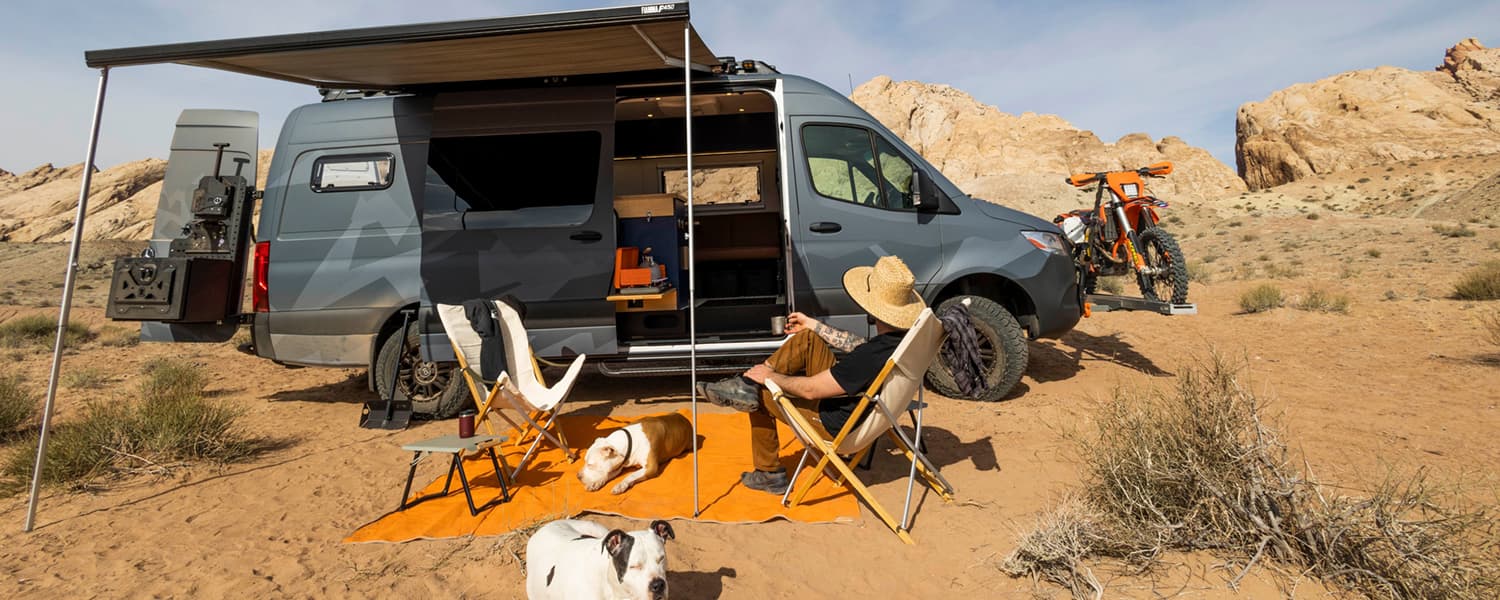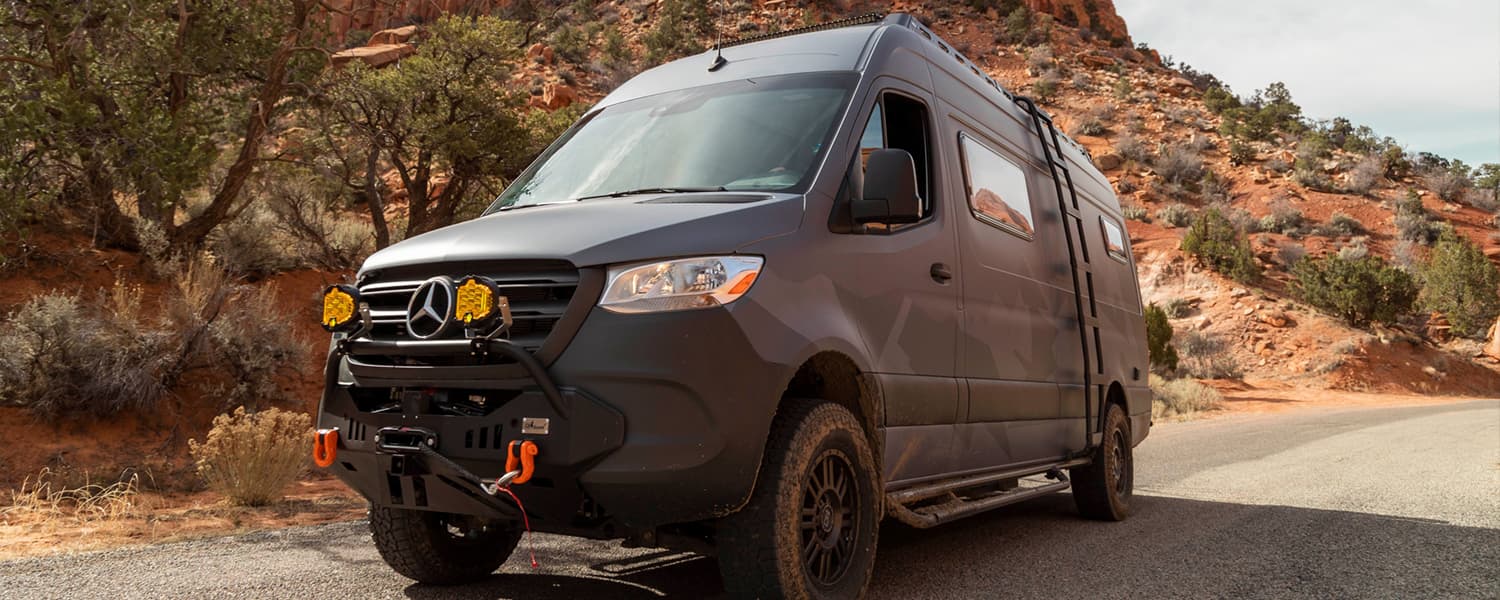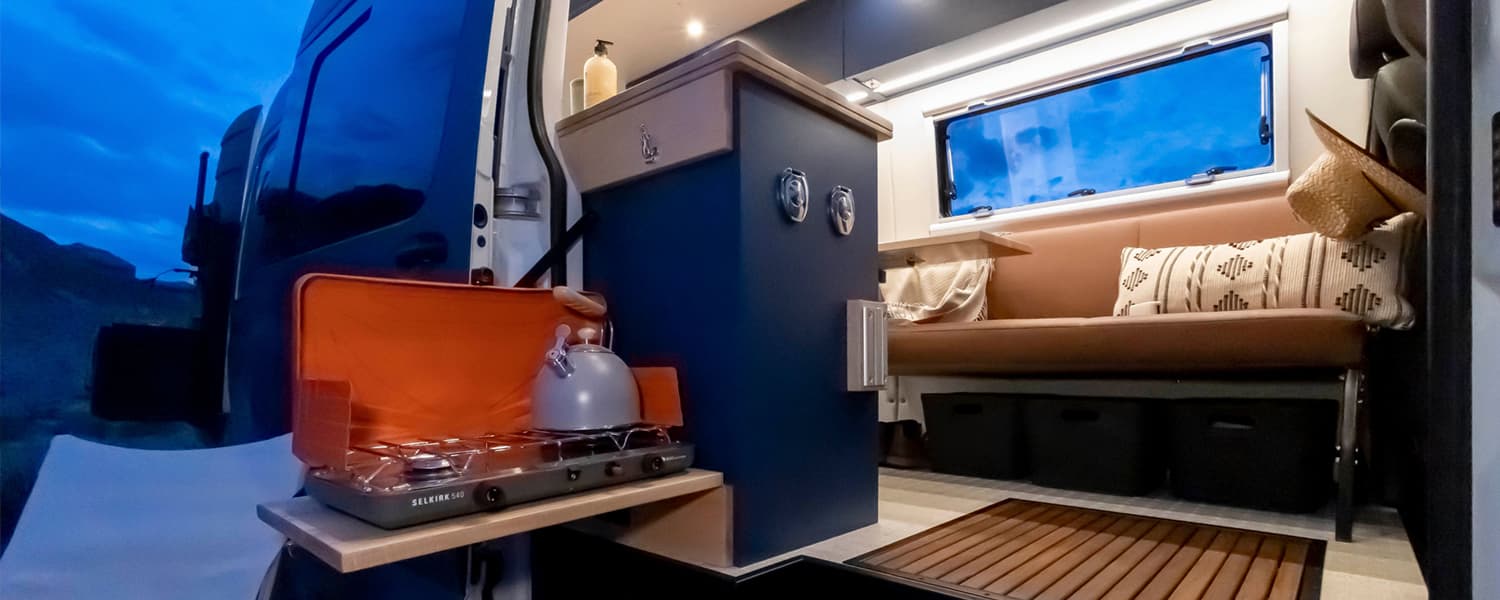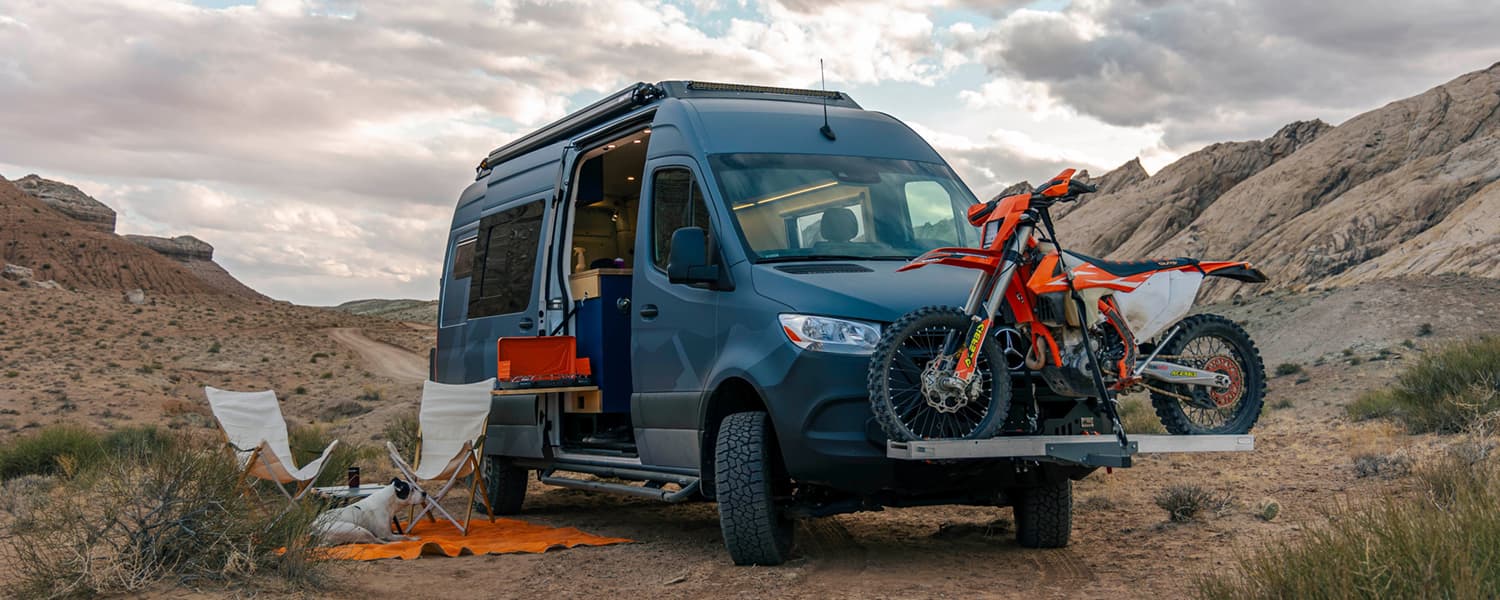 If you'd like to take a look behind the scenes at some of the work that went into this then click here to check out a video.
But If you're really ready to transform your life with this beauty then drop us a line because it is FOR SALE!
Contact us a today1-801-972-5211, or email inquiry.