We're happy to announce Adventure Wagon and Reparadise have teamed up to serve Salt Lake City, and the Intermountain West Area. Synonymous with versatility, Adventure Wagon kits are easily adaptable to different floor plans and storage solutions — including our SAGA cabinetry.
Do What You Want
Centered around a Modular Interior System, the Adventure Wagon ethos focuses on adaptability. Your interests can swing from one day to the next, season to season, and year after year. Thanks to the generous use of L-track, a system developed in the aviation industry, users of the Adventure Wagon interior kits can add/remove beds, bags, and gear as they see fit. In a Purpose-built RV this is nearly impossible.
Wood, Metal, and Fabrics
Another great feature to the Adventure Wagon system is the variety of colors and materials. And, they're all high-quality. In these kits, you'll find marine grade plywood, ABS molded plastic, and Marathon tweed fabric. Additional materials available are 100% bamboo panels and black hexa-ply plastic coated plywood. And, L-Track can be ordered in bare aluminum or black anodized finish. This gives you the power to personalize your van — Adventure Wagon has a great Configuration Tool for selecting and pricing out your interior kit.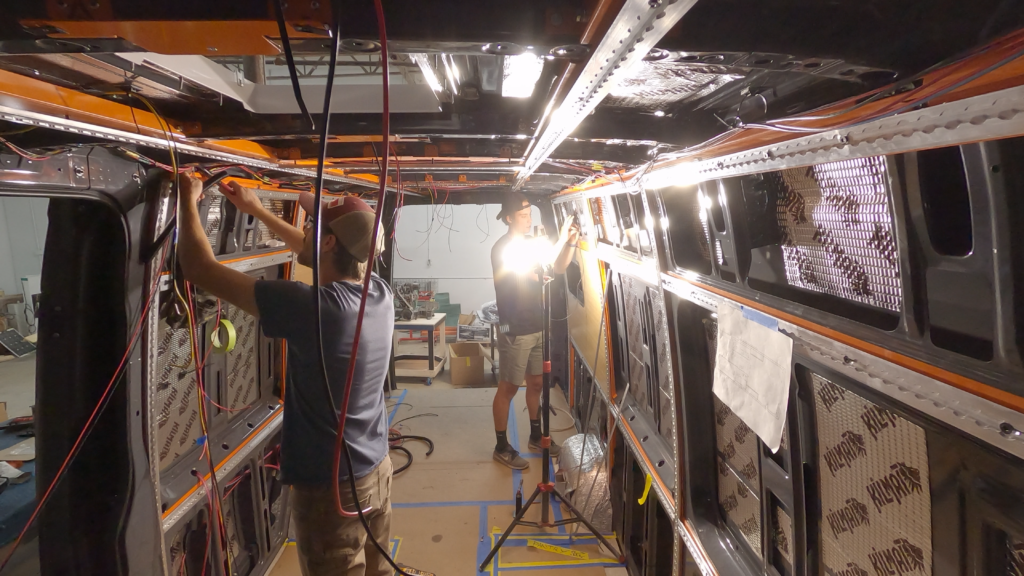 What about the SAGA Wall Kit?
You might be wondering why Reparadise became an Adventure Wagon Installer when we have our own SAGA interior kit; complete with walls, cowls, and more. That's a good question, and the answer is rather simple. Our system is not solely based on L-track. We focused on a refined interior space on par with the posh Airstream interiors we've built our reputation with. We'll gladly build you a Luxury Sprinter Van where you won't find exposed Aluminum L-track throughout the interior. On the other hand, if your needs change as rapidly as the seasons and want to add beds and bags as you see fit, we'll happily get your Adventure Wagon Built and on the road.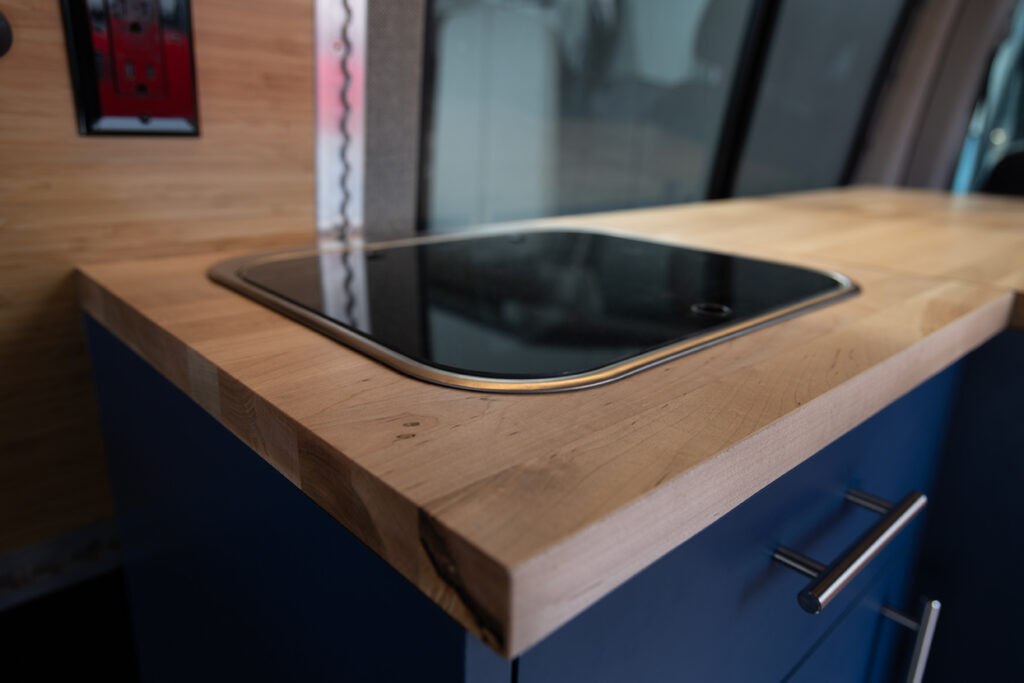 Here, you can see our SAGA Cabinetry used in an Adventure Wagon Build. Each Cabinet has it's own counter top, so each component can be removed or moved around as the user see fit. This versatility allows you to use the van as a van, or use it as a camper. Versatility at it's best.
It's All About the Next Job
So far, we've installed five Adventure Wagon interior kits, and there's more in the works. The latest is a 170Ext van. Adventure Wagon's website is a great resource to price, spec, and learn from the company, and the many existing users of this system. Reparadise is here to field any additional questions you may have about the process and to get your system installed by our camper van building experts.