Much like this larger Tin Bar (https://reparadise.co/juice-bar/), the latest version of our cherished retro-style mobile vending trailer draws crowds. But, to anyone serous about their business, what's underneath this stylish facade is just as important. The result of years of building our own retro-style-camper-turned-vending-trailer, this 16ft unit features two large serving windows — in fully reinforced walls, a boxed and powder coated frame Timbren Axle-Less Suspension, and much more.
On the inside, you'll find multiple switched warm-LED pucks, all on a dimmer. This allows the perfect amount of light for clean up — but the ability to showcase contrasting Black Walnut and Maple surfaces under the optimum light really makes the Tin bar draw in the moths, er… customers.
Durable Paperstone counter tops add a splash of color, and are complemented by the single-sheet Marmoluem Floor. Both of these materials are easy-to-clean, and will last for years, even under heavy use. The tactile and visual appeal for the countertop, floor, and hardwood cabinetry is topped off by custom-stitched upholstery.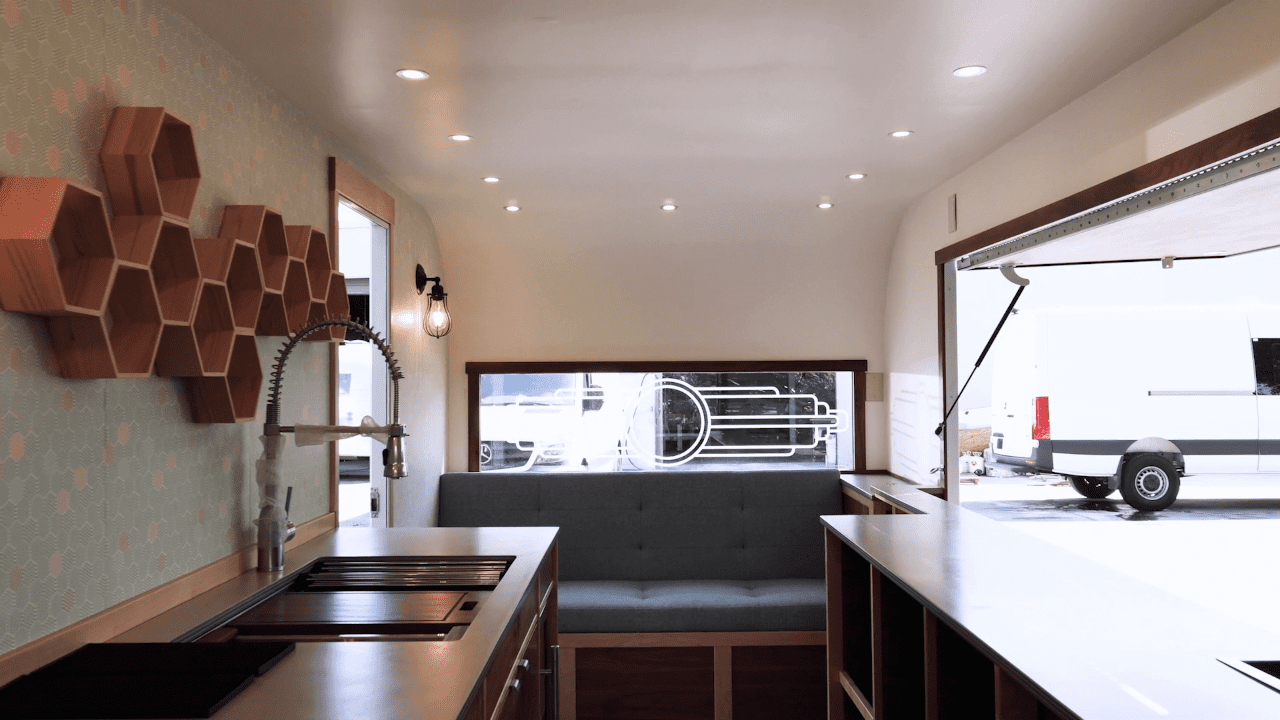 Like mentioned in the intro, this trailer features a boxed and powder-coated frame. If you know what this means, skip ahead. Typical trailers use "C" section steel beams, which allow an except amount of flex in the frame. On a canned-ham-style (campers from the late fifties through the seventies with wood framed walls and tin exterior, shaped like a can of ham) trailer, this flex is stabilized a bit by interior cabinets and divider walls… bedroom, bathroom, and ceiling-to-floor closets. In a service trailer like this, that's all gone.
Our trailers feature steel beams that looks like rectangles "▯" and doubles the vertical structure of the frame. Read; less flex, and less damage driving over broken roads. Additionally, a service trailer like this features large windows cut into the supporting walls. This also equals more chance for flex on the road. We can share horror stories of vintage Shasta's and their ilk collapsing in on themselves and rotting away due to shoddy work.
Underneath all this is a new axle-less suspension system, which means a smooth, independent ride. A stark contrast from the solid axle and leaf springs common on these trailers. The Tin Bar's supporting structure is ready for loyal service.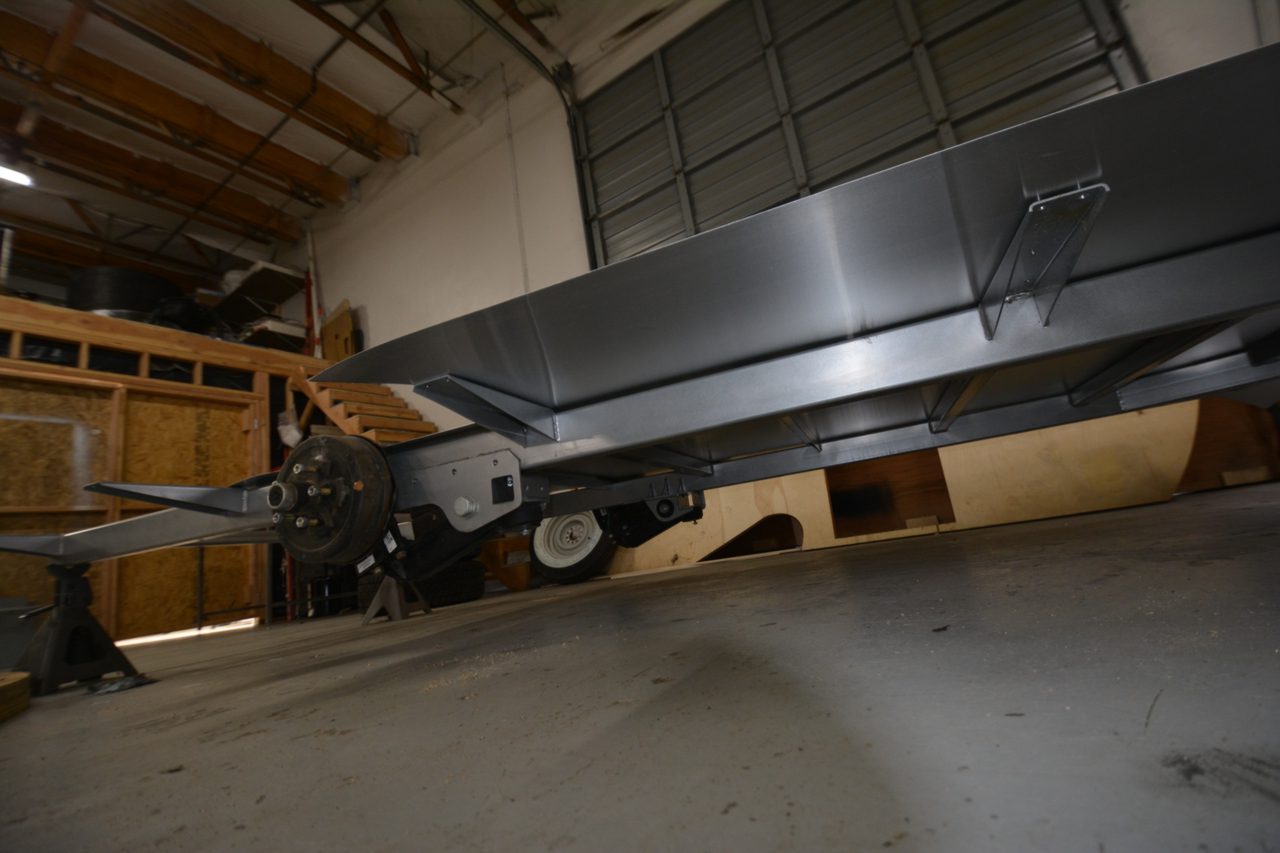 Most prominent on the outside of this trailer is the main service window. It's designed to blend seamlessly with the vintage exterior design. take a look at the pleats (folds in exterior sheet metal). They all line up. Details are important.
The window's constructed from 3/16" thick aluminum, with self-supporting gas shocks and a black walnut interior skin featuring flush-mounted LED puck lights. This window provides excellent sealing and has small consistent gaps throughout. We've been custom making service windows for some time now
To really make this vending trailer shine during the twilight hour and into the night, the exterior LED-running lights are switched from the inside and light up with out the need for a vehicle. And, to really set this retro camper off, the custom etched front window lights up, too.
Large stainless basin
Ice chest
15 Gal Fresh tank
15 Gal Grey tank
Wine Cooler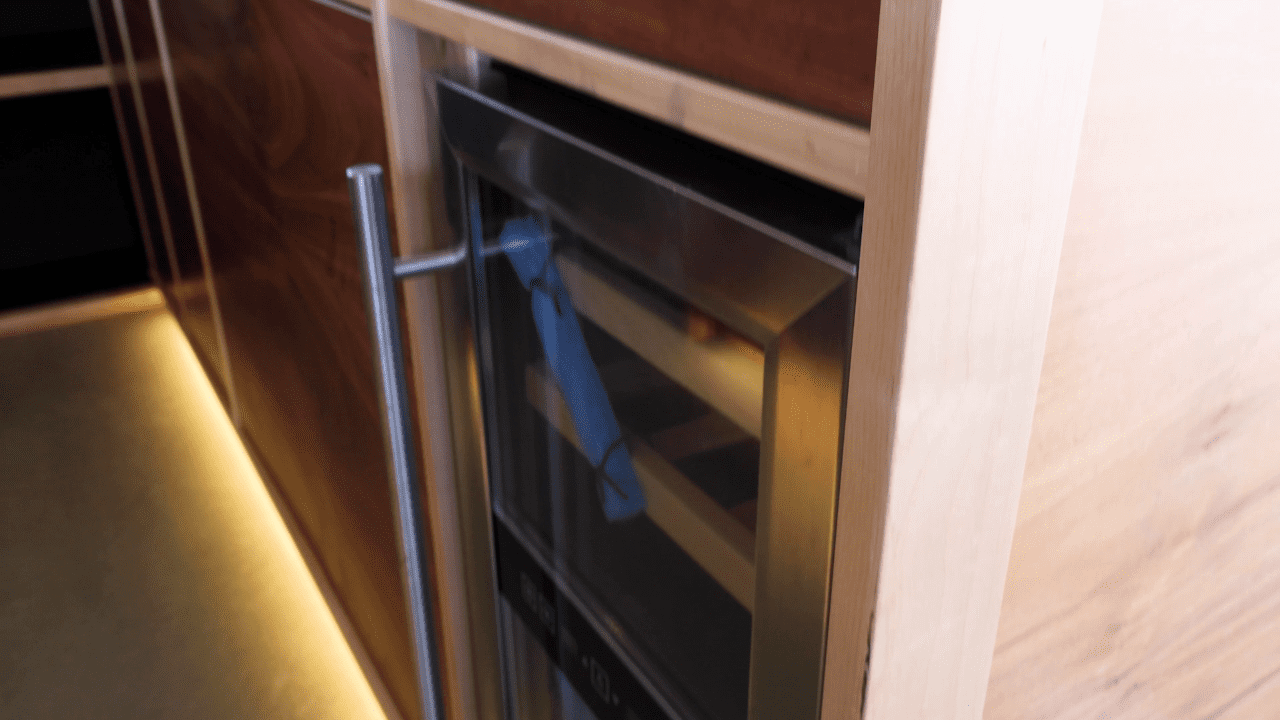 We're asking $53k for this 16ft Tin Bar. Sure that's a pretty penny. This is a pretty trailer — that's built to last in a commercial application. Good luck finding or building a comparable unit at this price.
Oh, and our production wait for another one is over a year.
External Dimensions: 16ft