2022 Luxury 4×4 Sprinter Van
This 2022 luxury 4×4 Sprinter van for sale includes touches like expertly upholstered cowls and trim, hardwood details by craftsmen, future-proof power systems, and a tasteful motif that continues our tradition. A tradition of distancing ourselves as far as possible from bespoke Insta-ham builds and the slap-dash products pumped out of the Midwest RV factories.
It's what's inside that counts
And, that's where you'll find cabinetry constructed from our lightweight plywood. Specially selected for it's low-weight and natural dampening characteristics (ever ride in a boomy metal van … if you have — you know what we're talking about here), the ply is laminated with Wilson Art Portico Teak on both sides for the best durability. All cabinet hardware is sourced from quality manufacturers like Häfele. Topping this off, Black Walnut countertops, storage cubbies, ceiling, and fold-out table give a nod to our roots. All the walls are 1/4in Baltic birch upholstered with a foam pad, and underneath all that is extensive sound deadening and 3M Thinsulate insulation. This van is worthy of the Mercedes emblem on the front. It's built for luxury, with no corners cut.
Since building custom campers a decade ago, our layouts traditionally favor open spaces over crowded, claustrophobic interiors. You won't find a bathroom or shower dominating this space. There is a cassette toilet for emergencies, and an exterior water port lets you clean up if needed. The focus here is the ability to move around the coach without tripping over gear and/or your significant other. 
Key to that is the perpendicular bench. Rather than a traditional parallel layout, this allows easy maneuverability to and fro. While a comfortable Murphy-style bed quickly stows — exposing large storage cabinets. With this setup, you can switch from cozy nighttime to daytime activities in a matter of seconds.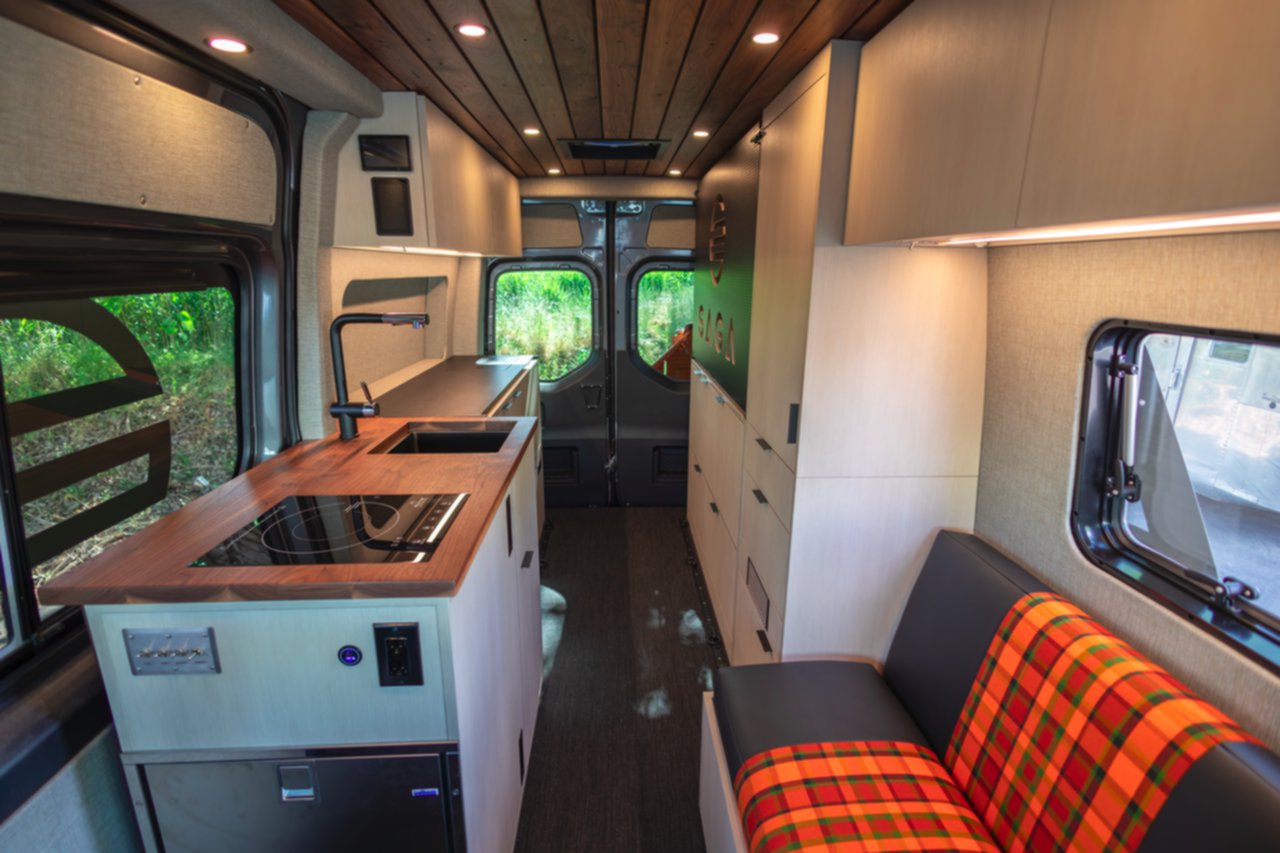 It's easy to slap a durable floor in a cargo van, move on to screwing cabinets into the sides and start racking in those #vanlyfe social media likes… That's not our M.O. here. We searched out a floor that subtly reminds you this is not your average Sprinter Camper Van. The 2Tech2 woven floor treats your bare feet to a soft, carpet like texture, yet it's a durable surface that's perfect for your four legger to plop down on — and if they're a velcro-breed that brings dirt, leaves, and sticks in with them, the easy-to-clean surface makes keeping the coach clean and inviting super easy.
Underneath the floor, is the legendary Sprinter 4×4 Drive-train with the 3.0 Turbo Diesel BlueTEC. This is the last of the true 4×4 Sprinters, and with the diesel power source you're set for any overland (that's what the cool kids call cross-country and light off-road driving now) adventure. We went all out and enhanced the 144 wheelbase 4×4 Sprinter with a Van Compass Stage 6.3 suspension system.
This adds a 2in lift, upgraded springs, and adjustable shocks. Combined with w oversized Micky Thompson Baja Boss tires wrapped around Black Rhino Arsenal tires, this is not a pavement princess… but, still plenty drive-able on the highway.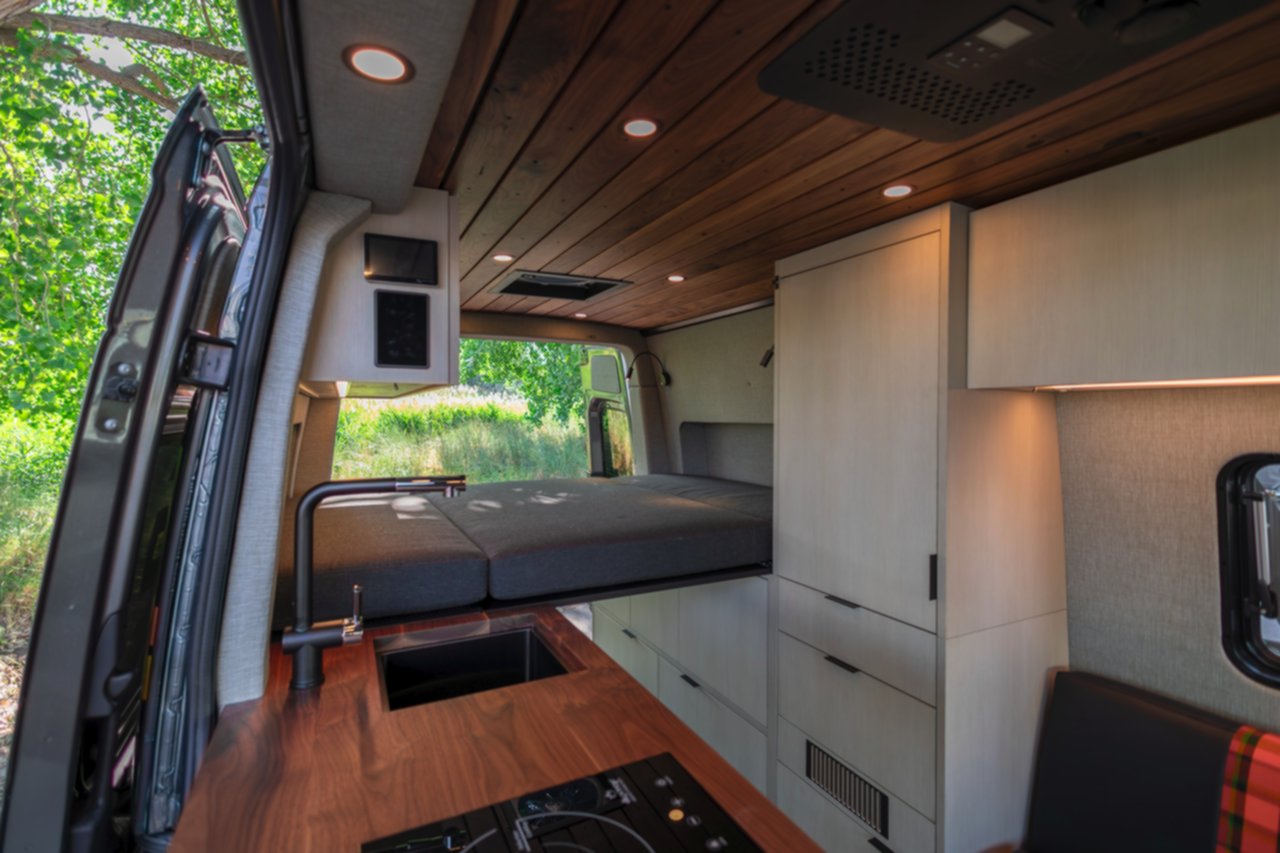 Underneath the eye-grabbing vinyl wrap is a perfect Mercedes Benz Selenite Grey Metallic exterior color. Of course, you're free to remove the wrap. The exterior accessories like the nerf bar, ladder, and gear carriers are all powder-coated burn Orange. While that might not be your cup of tea — we'd be more than happy to swap out these items for a standard-issue Black powder-coated product from any of the brands we carry. The roof rack is a low-profile favorite of ours, and the exterior accessories are all from Van Speed, except for the CAtuned front bumper with 12k lb. winch.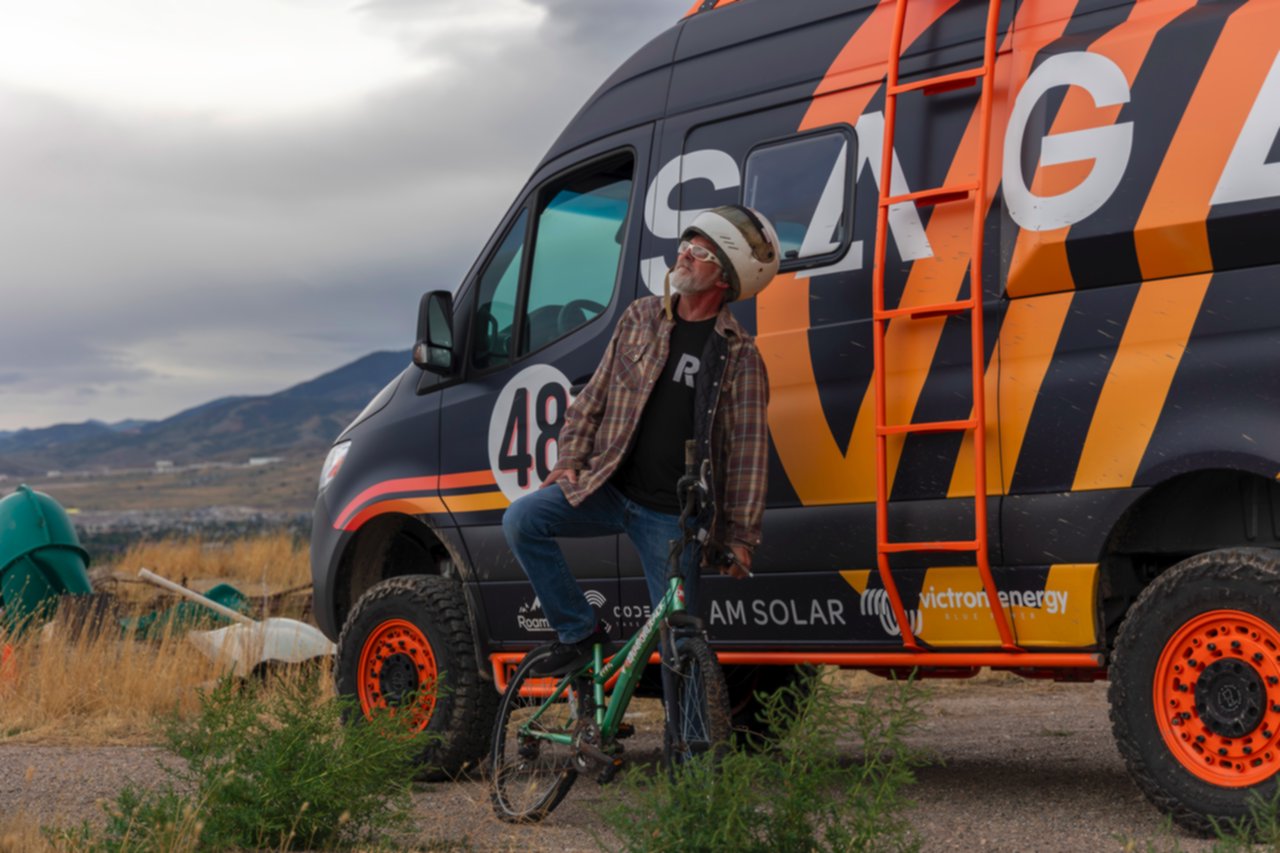 The important pieces to keeping you comfortable on the road and camping are nearly invisible in this coach. A diesel powered hydronic Aquahot heater keeps the coach warm in any weather, and hot water ready at a moment's notice. On the other end of the spectrum, a 48v Air Conditioner ensures this sprinter Van doesn't turn into an oven during the summer months — and this van has the power needed to run that AC.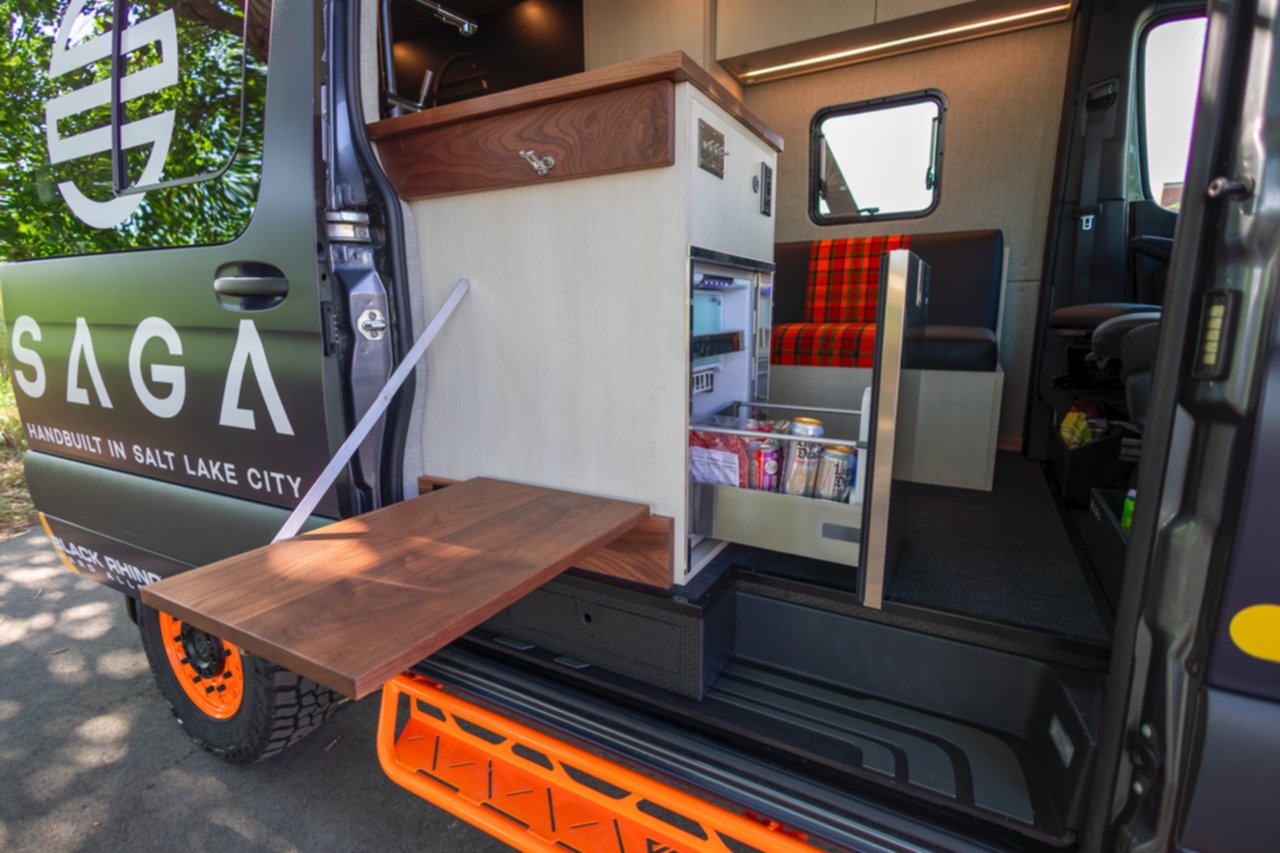 In a nutshell, the 48v power system this camper is packing will provide effortless off-grid camping. In fact, you could power a small cabin, on top of this van. There's an auxiliary alternator for rapid charging of the battery bank, and 220 watts of solar to maintain it. We go into more detail on this power system over here, go on… and geek out a little bit, we'll wait.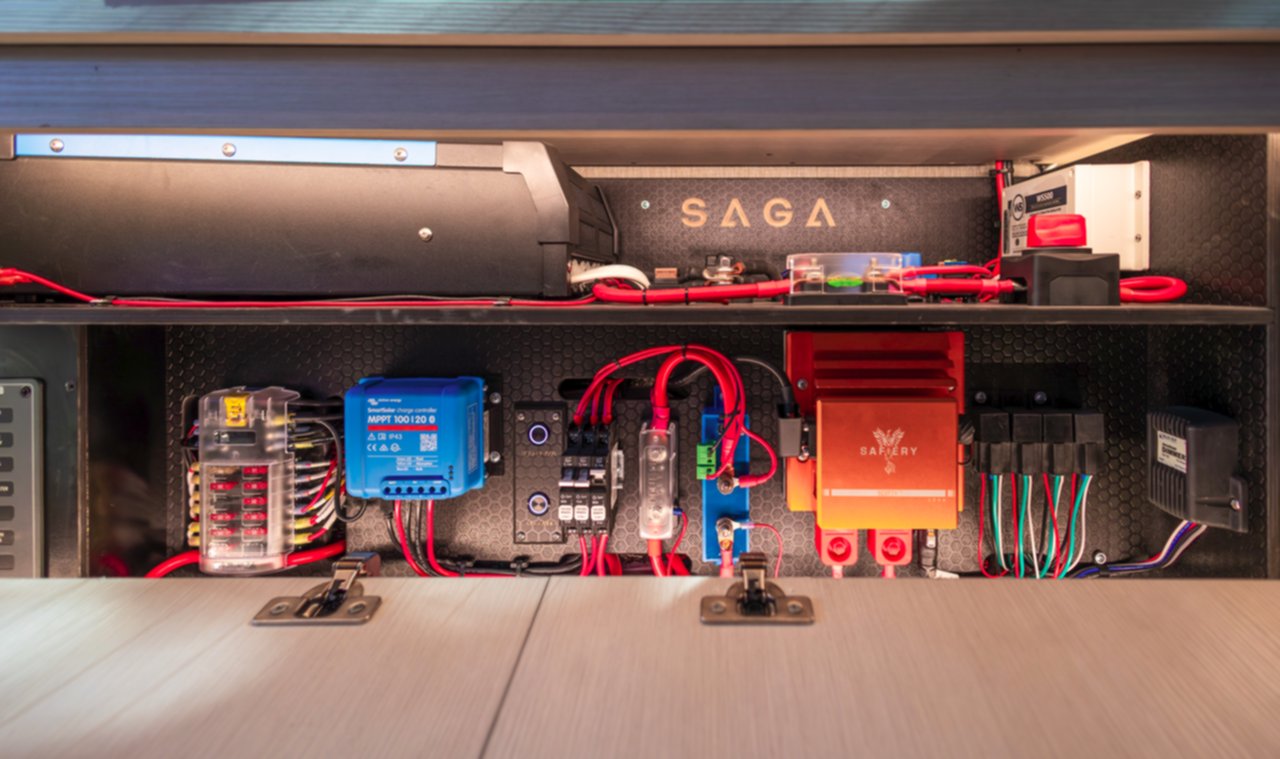 Hey, welcome back! If we've piqued your interest in this powerhouse of a Sprinter camper van and you're ready to make it your own, reach out to us. The keys are waiting, and the van's ready to rock.
Factory Build Sheet, and options packages: 144 – MSRP – W1W4EBVY8NT100113-3