…and have been for a little over a year now. In that time, our Silidker-trained Hayden surpassed 30 RoamRig installs. That's pretty impressive, considering the amount of dead weight that's gutted from the Winnebago Revel electrical system.
With RoamRig,  the batteries are inside the heated/cooled space in your van, which means as long as the vans heat is on, and isn't sitting at freezing or below, the battery temperature is not an issue in cold weather. The batteries also protect themselves and can't be damaged if they happen to find themselves in adversely cold  temperatures. When they warm up, they will wake up and act normally. (That's good)
What Roam Rig does is place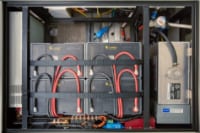 s expansive batteries and support equipment in temperature conditioned space inside your rig so that they're ready to party whenever you are. Science says, batteries that are placed far from each other , sources and loads,  can charge and discharge unequally, intern making the capacity of the system potentially lower than expected due to battery balance drifting over time. Fortunately the RoamRig Revel Power System  keeps all components cozy and close together, which shortens cable length and decreases power loss over the cables. 
https://www.roamrig.com/pages/get-your-system-for-revel-owners-only-starts-at-10-995