Marking the third van completed at Camper Reparadise, this 2nd Gen Mercedes Sprinter 170 conversion features modifications to accommodate the active outdoor lifestyle. With a nod to simplicity, the layout provides a removable queen-size bed, with ample storage underneath and a modular track tie-down system to secure gear for any activity.
In front of the bed are removable factory seats, that render the full interior space available for the largest cargo. Finishing off the coach is a galley housing a microwave and 12v Engel fridge – a gas camp stove is used for outdoor cooking. For power and heat, there's no need to lug around a heavy generator and fuel can or maintain an LP system. Everything's powered by diesel fuel that's tapped to the factory tank.
Mounted underneath the rear floor, between the frame rails, is a Powertec pt-3sv2 diesel generator that pumps out 3000 watts of power – merely hit a switch in the coach and the Sprinter's powered up and ready for A/C or Microwave use. And, under the swivel passenger seat is a diesel Eberspacher air heater that quietly warms the Sprinter Camper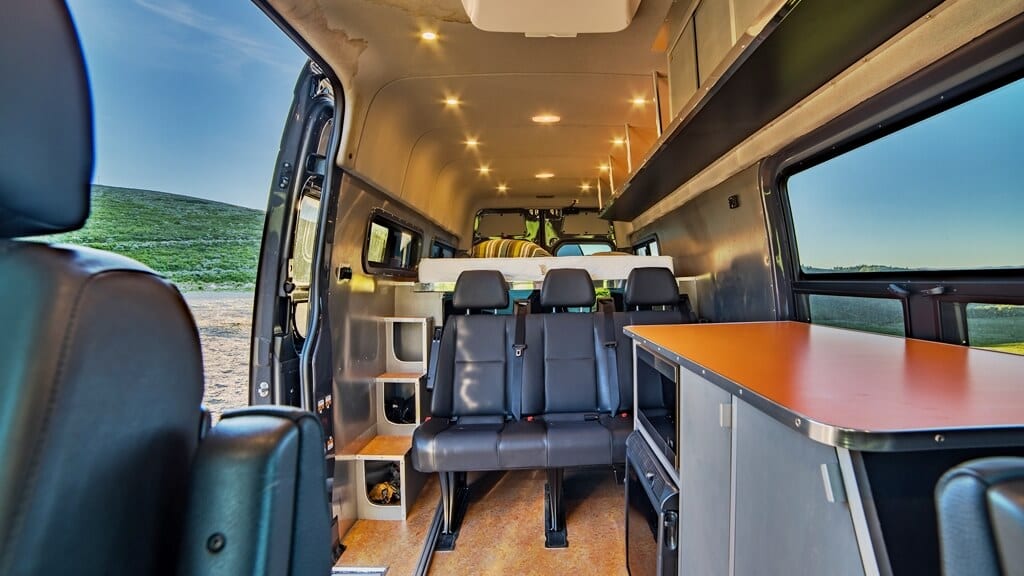 For water, there's a Spray-Away hose and fresh water tank mounted at the rear, and a Road Shower 41 attached to the Roam Rack up top. In the sliding door and behind the driver seat, we replaced the solid factory windows with opening windows. Additionally we added passive windows at the bed. Just like many of the Airstream builds we've completed over the years, the walls are mill-finished aluminum and underfoot an easy-to-clean Marmoluem floor adds a splash of color to the build.
On the exterior of the Mercedes Sprinter Van, a Roam Built roof rack doubles storage space up top, while offering a solid mounting point for dual LED light bars. To get to the rack, we added a Roam Built ladder to the passenger side. Likewise, Aluminess nerf bars provide footing for getting in out of the camper. Finishing off the exterior up-fitting, we added a Fiama awning, LED porch and rear lighting, and gave the rocker panels a coat of black bed liner. This van is constantly in use through Outdoorsy.com, and we're always making improvements and modifications to it based on real feed back.